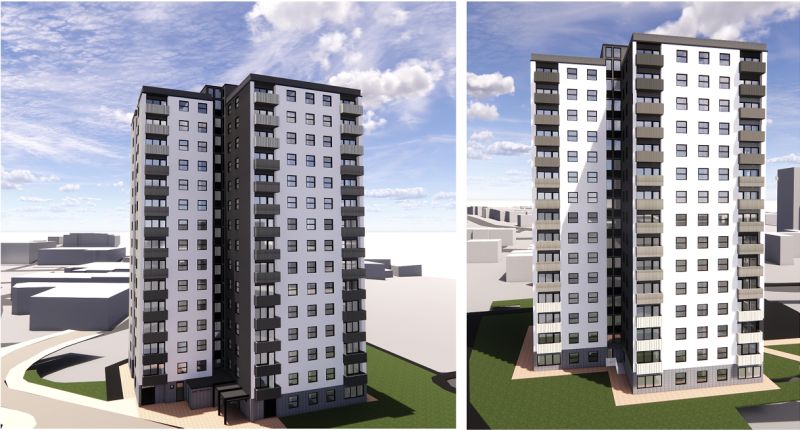 A pair of ageing Salford tower blocks are going 'green' as part of a multi-million pound eco-transformation.
Salix Homes has unveiled our ambitious investment plans for neighbouring blocks Greyfriar Court and Whitefriar Court in the Greengate area of Salford.
The 14-storey high rise buildings will undergo a £10million refurbishment, making them greener and more energy efficient.
The planned improvement work includes external wall and roof insulation, new windows and ventilation; while the façade and balconies will be completely rendered and transformed.
An eco-friendly ground source heating system will also be installed, which, combined with the external insulation will improve the thermal efficiency of the building and help reduce energy bills for Salix Homes customers. The state-of-the-art heating system works by harnessing the natural heat from the ground, rather than burning fuel to generate heat.
Liam Turner, Executive Director of Assets, Growth and Sustainability at Salix Homes, said: "Salix Homes is committed to creating cleaner, greener homes and communities, so we're pleased to share with residents our ambitious plans for Greyfriar and Whitefriar Court, which aim to enhance residents' quality of life and reduce carbon emissions.

"This significant investment project will give a new lease of life to these ageing 1960s tower blocks, transforming the properties into desirable, modern homes which are more comfortable and economical to run, while helping to meet our carbon neutral ambitions.

"This marks another step forwards towards achieving our sustainability goals and improving the energy efficiency of all our housing stock, which will benefit both our residents and the planet."
Salix Homes has secured £4million from the government's Social Housing Decarbonisation Fund (SHDF) to help fund the project, following a successful bid from the Greater Manchester Combined Authority (GMCA) on behalf of social housing providers across Greater Manchester.
The SHDF scheme provides financial support to social housing providers and local authorities to undertake energy efficiency and decarbonisation measures. The Government has set a target that all social housing should have an Energy Performance Certificate (EPC) of a 'C' rating by 2030, as part of the net zero programme to reduce the UK's carbon emissions, while Salix Homes has committed to becoming a carbon neutral organisation by 2038.
Our partner contractor Casey will carry out the improvement work, which is due to start on site later this year, and is expected to be complete by March 2025.
Alan Taylor, Operations Director at Casey, said: "We are pleased to be working in partnership with Salix Homes to deliver the transformation of Greyfriar and Whitefriar Court. The work being undertaken supports our purpose of improving lives and will ensure benefits to the residents living within the blocks. Throughout the project we will also deliver social value initiatives to benefit the local community."