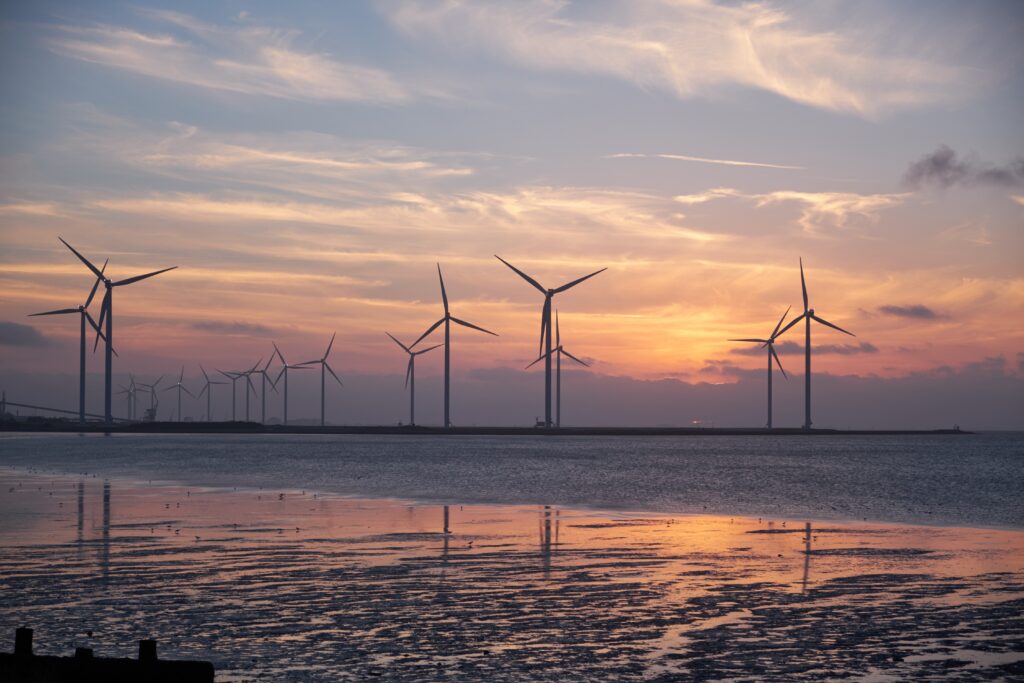 A new multi-billion pound prospectus that showcases the North West as the UK's top region for a windfall of post-Covid green investment has been unveiled by Net Zero North West at a special launch event with Business Secretary Kwasi Kwarteng.
The industry-led group's landmark report – authored by top analysts at Siemens UK – puts the region on course to spearhead the Government's Ten Point Plan for a green industrial revolution.
Setting out 18 investment cases for a pipeline of long-term and shovel ready green investment projects, the prospectus shows how the North West will deliver the UK's first net zero region by 2040. In doing so it will save 38.5 mega-tonnes of carbon dioxide emissions and deliver £207bn of targeted investment, which will turbocharge the UK economy by £285bn GVA and safeguard or create over 660,000 jobs.
Net Zero North West's vision:
38.5 mega-tonnes of carbon saved

£207bn of targeted green investment

£285bn GVA added to the UK economy

660,000 jobs
Net Zero North West's prospectus sets out a co-ordinated vision for the region's green industrial revolution with three key aims: establish a fully integrated net zero industrial cluster by 2040; deliver a region-wide clean energy system; and build a hydrogen economy that will become the first UK network of hydrogen generation, storage and distribution.
Home to the country's leading hydrogen and carbon capture project, HyNet North West – which can deliver over three-quarters of the Government's 2030 target for hydrogen production and 100% of the target for CO2 – the region is also unlocking hydrogen as a clean fuel for transportation, including plans for the UK's first plastic to hydrogen facility at Protos in Cheshire.
Building on its strong heritage in the nuclear sector a North West Nuclear Arc has been established that will provide clean and sustainable energy across the North West and North Wales. The prospectus also highlights the North West as a national centre for renewable energy investment and innovation, with ambitions to maximise the use of its land and coastal assets and put wind, tidal and solar energy at the heart of powering the region, including the multi-billion pound Mersey Tidal Power project.
The region has created a blueprint for a Smart Energy system that could deliver cheaper and cleaner energy for power, heating and transport. In Greater Manchester, the Trafford Low Carbon Energy Park – a green energy storage facility – has also been developed, which is the first of its kind in the UK and includes  'liquid air' (cryogenic) energy storage system.
Andy Burnham, Mayor of Greater Manchester said: "If we get serious now about the climate crisis, it will also help us tackle the post-pandemic jobs crisis. There are tens of thousands of good green jobs just waiting to be created across the North West – in retrofitting our buildings, modernising our energy systems, and decarbonising our transport. We are outlining our vision to achieve a net zero North West by at least 2040, 10 years ahead of the national target. Together, we hope to build a movement to make the North West the country's leading force in the zero-carbon economy. We want to show the world that the North West of England is ready once again to lead an industrial revolution – this time a green one."
Secretary of State for Business, Energy and Industrial Strategy, The Rt Hon Kwasi Kwarteng MP said: "The North West led the first industrial revolution and today it's leading the new green industrial revolution, bringing jobs and investment to communities across the region as we fight climate change and build back greener.

"We're already seeing this investment flowing, with government funding of £33m for hydrogen and carbon capture in the region and just this week, Vauxhall announced a £100m investment to build electric vehicles at Ellesmere Port.

"It's clear that if you think Net Zero, you think North West and I'm delighted to be a part of this special launch event and discuss the region's prospects."
Carl Ennis, Chairman, Net Zero North West and CEO Siemens GB said: "The North West is the only UK region that has everything required to deliver the UK's first net zero region by 2040. There is no question that we have the vision, geography, expertise and infrastructure to deliver. Our strength lies in the unrivalled number of projects already happening on the ground, across hydrogen, renewables, carbon capture, nuclear and more. Working with Government, we are committed to real change that will not  only level up the country but is critical to reaching the UK's net zero targets. Now is the time for action and this prospectus sets out how we will deliver."
Emma Degg, Chief Executive of the North West Business Leadership Team and founding strategic partner of Net Zero North West said: "This region has a long history of collaboration but the level of commitment and partnership we're now seeing shows how the North West is rising to the challenge. The scale of investment and potential job creation is game changing and North West businesses have a huge opportunity to lead the world on net zero. We have a shared vision and are now firmly focused upon delivery and getting on with making the change."
To download a copy of the report visit www.netzeronw.co.uk