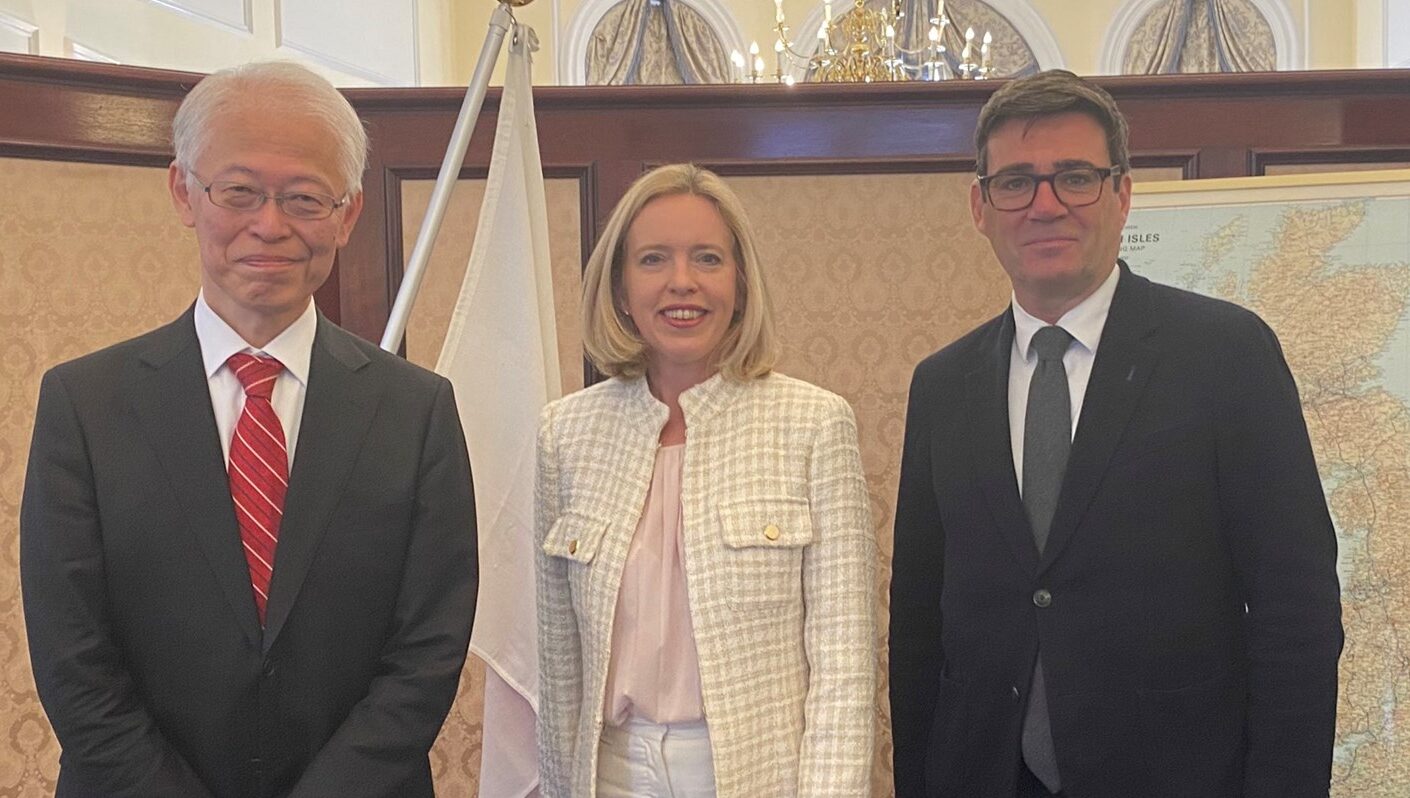 Mayor of Greater Manchester, Andy Burnham, Leader of Manchester City Council, Bev Craig, and the Prime Minister's Trade Envoy to Japan, Greg Clark MP, will lead a delegation to Japan later this year as part of a mission that will strengthen and support collaborative net zero innovation as well as diplomacy, trade and investment, culture and sport.
Mayor Andy Burnham, Cllr Bev Craig, and Greg Clark MP – with support from a delegation comprised of founding members of the Greater Manchester Japan Steering Group including local businesses – will visit Osaka and Tokyo between the 4 and 8 December.
Greater Manchester has strong ties with Japan that date back to the 19th century, when a group of students from Osaka travelled to Greater Manchester to learn about the revolutionary industrial technology that was being used in the local cotton industry. This first Greater Manchester – Osaka collaboration boosted the industrial revolution taking place in the East, and helped Osaka become known as the Manchester of the East.
More recently, the city-region's engagement with Osaka has included a three-year bilateral partnership on Net Zero involving local government officials as well as industry and university partners from both sides. A key milestone of this relationship was the commitment from one of the world's largest air conditioning and heat pumps manufacturers, Japanese firm Daikin, investing in Greater Manchester to help retrofit 1,000 homes.
The agreement, which was the first of its kind between a UK city-region and a Japanese firm, has allowed Greater Manchester become a test-bed for new net zero technologies and services, with the aim of boosting investment and job creation in the city-region. It's hoped that during this mission to Japan, Greater Manchester businesses can explore greater opportunities to improve net zero innovations and collaborations, accelerating the adoption of new technologies across the region.
The mission will also be an opportunity to promote Greater Manchester as one of the largest and fastest growing UK city-regions, gateway to the Northern Powerhouse, a world-class centre for innovation and science, and an attractive place to visit, study, invest, and do business.
The delegation will engage with political leaders, trade officials, and Japanese businesses, with the aim of broadening and intensifying political, business, cultural, and civic links. The mission will also establish Greater Manchester's involvement with EXPO25, the upcoming World Expo event that will take place in Osaka between April and October 2025.
The Japanese economy is one of the biggest in the world and is identified as a key area for growth in Greater Manchester's international strategy. In 2021, Greater Manchester exported £56m worth of goods to Japan. Japan is also in the city-region's top 10 markets for export services with over £161m in export services provided in 2020.
Mayor of Greater Manchester, Andy Burnham, said: "I am very pleased to be leading this mission to Japan alongside Bev Craig, Greg Clark, and the Greater Manchester Japan Steering Group. 

"Japan is the third largest economy in the world – bigger than the UK and Germany combined – and Greater Manchester already has significant links with the country which date right back to the 19th Century.  Just as our collaboration in that time helped to spark the Industrial Revolution in the East, we believe our collaboration today could help boost a new technological revolution based on innovation and net zero advances.  Our ties run particularly deep with Osaka, the so-called Manchester of the East, which shares many similarities with our city-region including a rich industrial and textile heritage.

"As well as numerous civic and cultural ties we have with Osaka and Japan, we have a very successful partnership with Japanese manufacturer Daikin.  This partnership is already helping 1,000 homes across the city-region benefit from low-carbon retrofitting trials. Japan is a world leader in advanced energy-efficient technologies, and as Greater Manchester continues its own journey to net zero by 2038, I'm determined to see how we can further learn and collaborate with our friends and partners in Japan."
Cllr Bev Craig, Leader of Manchester City Council and Greater Manchester Lead for Economy, Business, and Inclusive Growth, said: "Manchester is a city with global ambitions, and to create new opportunities for our residents and businesses we must be present on a global stage.

"Japan is a key growth market for Greater Manchester. We're looking forward to strengthening relationships, drawing on a long tradition of working together. Today's Japan represents a significant opportunity for our city-region and the delegation will be working to create mutually beneficial links, including around green technologies which will contribute towards our goal of becoming a zero carbon city by 2038.

"The visit is a chance to explore the benefits of collaboration resulting from the creation of the Greater Manchester Japan Steering Group. We will be showcasing our incredible strengths across low carbon, life sciences, advanced materials, academia, innovation, culture, and sport, while also emphasising growing opportunities for tourism."
HAYASHI Hajime, Ambassador of Japan to the UK, said: "Since the late 19th Century, we have learnt a lot from Manchester and its surrounding region – from the spinning industry to the passenger railways – and have developed them into our own form in Japan.

"This visit will not only provide an opportunity for our friends of Manchester to see the 'present form' of what we have learnt from the UK, but also to develop something new based on our long relationship to mutually complement and enhance our strengths, and addresses common challenges.

"Furthermore, such our cooperation will extend from technology to culture, sport and the arts. I look forward to seeing the results of this work at the 2025 Osaka-Kansai Expo, and welcoming you all to Japan."
Jo Ahmed, Deloitte Partner and Honorary Consul of Japan in Greater Manchester, said: "As Honorary Consul of Japan and Chair of the Manchester Japan Steering group, it is fantastic to see the strength of partnership that has developed between Greater Manchester and Japan across a number of areas including business and innovation links as well as through culture and sport.  The mission to Japan in December will enable even greater business opportunities for trade and investment as well facilitating further collaborations with key Japanese partners on the path to net zero.  Importantly, the mission will also further cement the people to people links as we look ahead to the World EXPO taking place in Osaka in 2025."
This mission comes after the UK concluded negotiations to join the Comprehensive and Progressive Agreement for Trans-Pacific Partnership (CPTPP) on 31 March and signed the Protocol of Accession on 16 July. Japan is a member of the CPTPP.  The Comprehensive and Progressive Agreement on Trans-Pacific Partnership (CPTPP) is a trade agreement between 11 countries (Australia, Brunei, Canada, Chile, Japan, Malaysia, Mexico, New Zealand, Peru, Singapore and Vietnam), covering 500 million people.
Organisations and businesses taking part in the Greater Manchester mission to Japan include Greater Manchester Combined Authority, Manchester City Council, MIDAS – Greater Manchester's Inward Investment Agency, Department for Business and Trade, Marketing Manchester, Manchester Airport Group, Manchester Metropolitan University, University of Manchester, The Hallé, and City Football Group, SSE and Electricity North West.