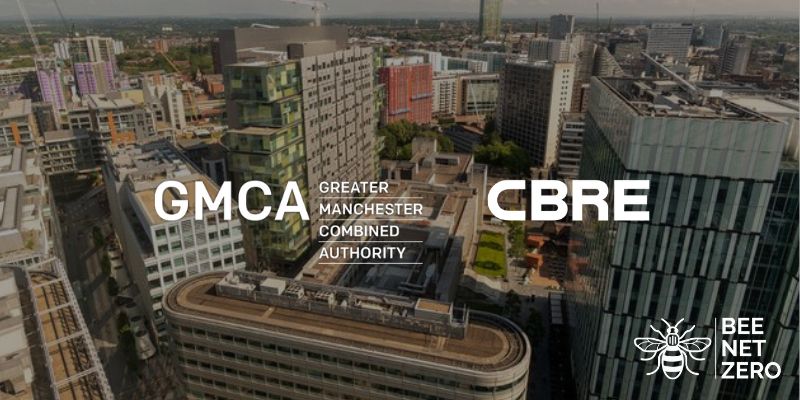 Greater Manchester Combined Authority (GMCA) has created a guide to Commercial Occupier Retrofit with the help of CBRE to help the Greater Manchester businesses in landlord-owned buildings reduce their carbon emissions and benefit from improved sustainability.
To help Greater Manchester reach its science-based target to become carbon neutral by 2038, the region must work to reduce carbon emissions from its built environment and reduce carbon emissions from how we heat buildings.
The Bee Net Zero Partnership and GMCA have identified the relationship between commercial landlords and occupiers as a barrier to retrofitting a large number of commercial buildings across the region. This guide will outline how to manage the relationship and the mutual benefits that making a building more sustainable can have for landlords and occupiers alike.
The project is part of the work of The Greater Manchester Retrofit Task Force which was formed in July 2021 to help the region tackle its urgent retrofitting challenge. The Task Force brings together partners to set out a detailed plan for Greater Manchester to take a global lead on retrofitting, named the retrofitGM action plan.
The retrofitGM action plan builds on the work the region has been doing as the leading green-city region. This year alone retrofitGM has invested £27m into our Green Homes Grant for residents to renovate fuel-poor homes bringing more people out of fuel poverty thanks to better insulated homes with modern, environmentally friendly heating systems that are lower carbon. It has also invested £78m in renovation and low-carbon energy generation for over 150 public buildings this year.
Whilst this is a great start, there are over 880,000 homes, 2,700 public buildings and an as-yet-unknown number of commercial buildings that will need some form of renovation by 2038
By 2030, the headline objective for Greater Manchester is for all non-domestic buildings to reach an average of Energy Performance Certificate Rating C or Display Energy Certificate B.
The scale of the problem in Greater Manchester is huge, and one of the main barriers in commercial real estate involves the collaboration between landlords and occupiers.
Therefore, CBRE UK has developed a guide for commercial occupiers wanting to understand the actions they can take to play their part in GMCA's 2038 carbon neutrality target: 
The guide includes
Best practice certifications – know your certifications and the benefits that they can bring.
Landlord engagement – a well-performing building requirements maintenance and collaboration.
Green leases – well-prepared clauses in leases can enable strong collaboration to maintain building performance.
Energy provision and management – seek out renewable energy provision and well-metered supply.
Circular economy solutions – design your space for the future, allowing for spaces to change and evolve as working practises change. Reduce, reuse, recycle.
Building systems – seek modern up-to-date systems. with no gas.
Benefits to occupants – lower energy bills, cheaper operating costs, strong ESG messaging, improved employee facilities and more
Learn more and download the free Commercial Occupier Retrofit Guide here.