Smart Energy
Innovations in technology are giving the power of local energy production to Greater Manchester, allowing the region to make its own decisions on energy infrastructure to create a network that delivers low carbon, affordable energy to residents and businesses. 
Transport
From investment in cycling and walking infrastructure to public transport reform and research into more sustainable forms of travel utilising advanced materials, Greater Manchester is serious about discovering greener ways to manage transport and travel. 
Retrofitting
A new Retrofitting Task Force made up of the best minds in energy, education and infrastructure has been established with the goal of upgrading around 60,000 homes across Greater Manchester every year. Measures including renewable energy and heating will reduce fuel poverty, and creates a market of skills and jobs worth around £5bn.  
Natural Environment
Work is underway to protect and improve the natural environment across Greater Manchester, with exciting developments including the City of Trees initiative and Local Nature Recovery Strategy. 
Green Innovation
From hydrogen as a new form of energy to graphene as a conductor for electric vehicle batteries, Greater Manchester's institutions are leading the way with innovative research on the next generation of ideas to power a future green economy. 
 
Green Finance
The Greater Manchester Environment Fund (GMEF), the UK's first regional environmental impact fund, aims to generate over £100m of funding and investment to align with projects that benefit the environment around Greater Manchester. 
Green Skills/Jobs
The Low Carbon Environmental Goods and Services sector is thriving in Greater Manchester, with over 45,000 people employed, and annual sales of £6.7bn. To meet demands for retrofitting and green projects, new skills will be needed to drive the region's carbon net zero economy of the future.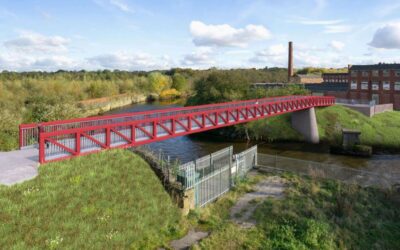 Greater Manchester transport leaders have approved £2.55m for the delivery of a new cycling and walking bridge...
Marketing Manchester Ltd
Lee House
90 Great Bridgewater Street
Manchester
M1 5JW
Registered in England No: 3323710
VAT No: 727102071