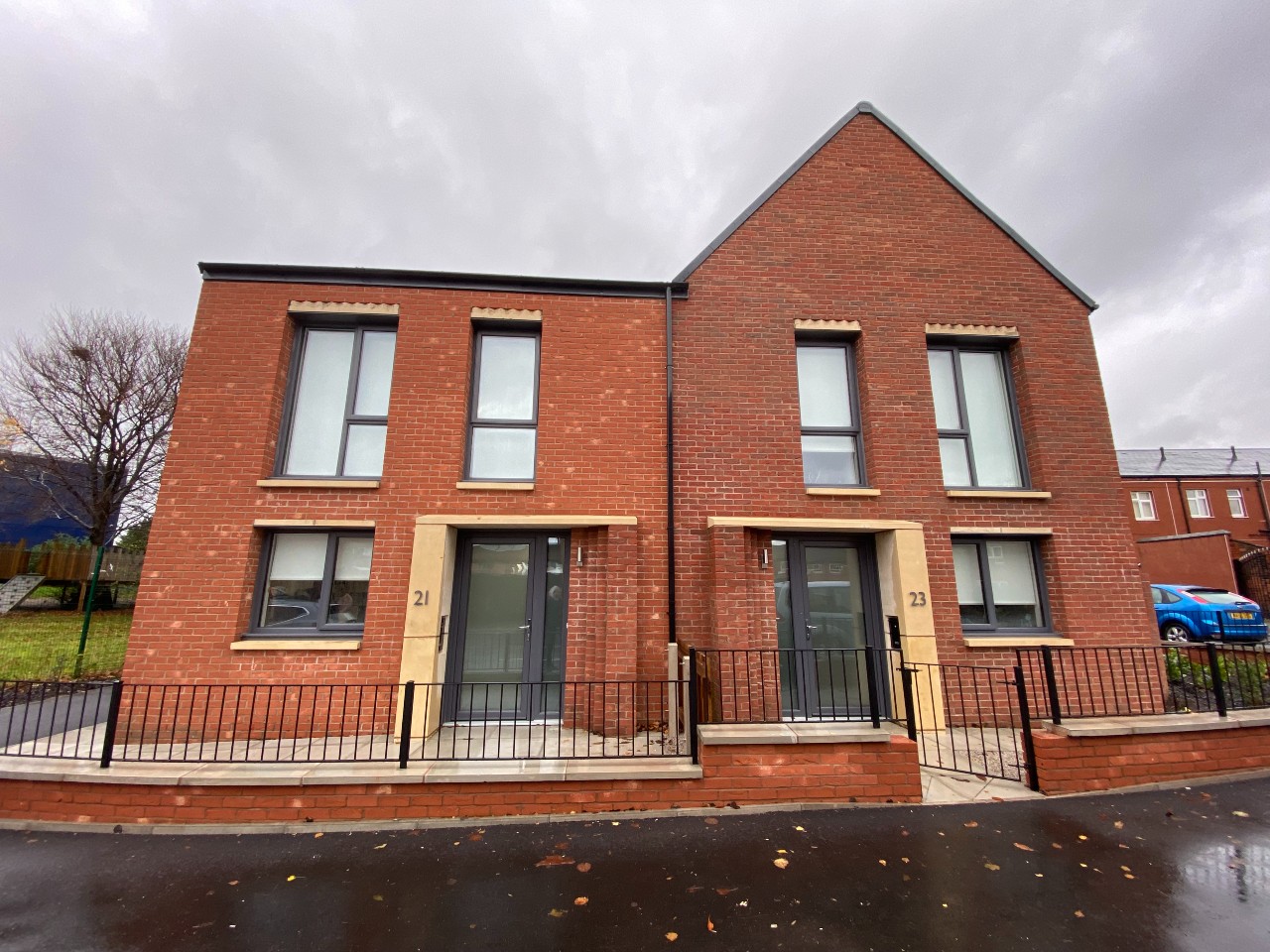 Two zero carbon social properties – the first of their kind in the UK – have been completed and passed over to the first residents as part of a wider 22 low carbon housing development.
Developed by housing provider One Manchester working in partnership with the Council using Council-owned land, the development is a landmark for sustainability in the social housing sector – and supports the Council's target for Manchester to become a zero-carbon city by 2038.
The 100% social housing development has delivered a total of 22 two and three bed homes for social rent on Blackrock Street in Beswick, east Manchester which have been built to low carbon standards, including two which are full net zero carbon – a pilot build to test the potential of zero carbon social housing for the future.
These properties are built with additional insulation, triple glazed windows, an air source heat pump which provides hot water and a Mechanical Ventilation Heat recovery system installed. All of these items installed together contribute to retaining heat and making the homes incredibly energy efficient. There is no gas in the properties and the homes are built using a holistic approach to building that reduces the carbon throughout the whole build process, giving them minimal impact on the environment.
Also in East Manchester – as part of the adjacent Grey Mare Lane regeneration project – One Manchester and the Council are moving forward to implement a social-housing retrofit programme using a £3.12m bid (announced in March 2021) from the Government's Social Housing Decarbonisation Fund.
It will mean warmer and more energy efficient homes, a reduction in households' energy bills, and lower carbon emissions.
The scheme will help transform the Grey Mare Lane estate on a low-carbon basis, along with improvements to local open space and play area, and better walking and cycling routes.
Manchester City Council is committed to increasing the number of affordable homes accessible to Manchester people and is now on track to exceed the target of affordable homes delivered in the city, with more than 7,000 affordable homes expected to be completed by 2025 (original target 6,400 between 2015 and 2025.
Cllr Gavin White, Manchester City Council's executive member for housing and employment, said: "This is nothing short of landmark for the social housing sector. We know there are major challenges in making 100% social housing developments viable, but this is doubled when developing zero carbon – or even low carbon – social housing.

"However, this is a challenge that we must meet head on if we are serious about meeting our target of becoming a zero-carbon city by 2038. Manchester has a very large social housing stock – nearing 70,000 homes – and the retrofit project to bring the properties to modern sustainability standards is huge, but absolutely essential.

"Thank you to One Manchester – and all of the city's housing providers – who are stepping up to this challenge to help us develop the homes we desperately need, while keeping costs down for residents."
Judy Noah, Director of Development at One Manchester said: "We are so pleased to have built the first whole life net zero carbon social rented homes in the UK. At One Manchester, sustainability is at the heart of what we do and we have already built a number of low carbon developments, but testing the next step has really given us the chance to see what is possible.

"We are looking forward to taking the learnings that we have made on this development and taking it to future One Manchester developments, helping to make a difference to the sustainability of homes in Manchester, and reducing energy costs for residents."
-Ends-