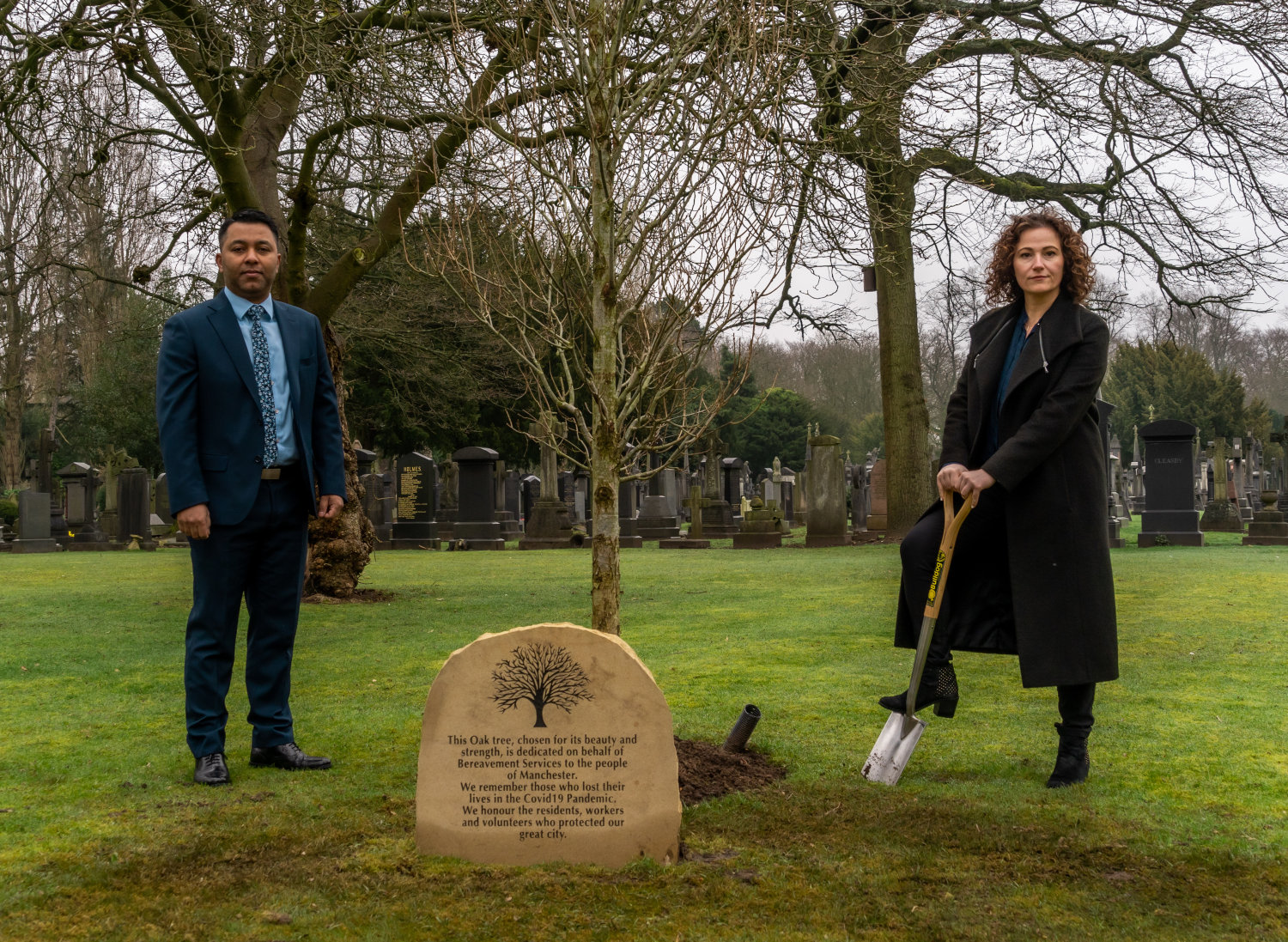 Oak trees have been planted in Manchester's cemeteries to remember people who have died in the Covid-19 pandemic and those who have helped protect the city.
The 'beacon' trees are intended as a lasting legacy of an extraordinary period and they will live for future generations as a tribute both to those coronavirus took too soon and the many Mancunians who selflessly did their bit to treat patients, support those in need and limit the virus' spread.
A dedication stone at the foot of each tree reads:
"This oak tree, chosen for its beauty and strength, is dedicated on behalf of bereavement services to the people of Manchester. We remember those who lost their lives in the Covid-19 Pandemic. We honour the residents, workers and volunteers who protected our great city."
The trees are part of Manchester City Council's £1m citywide Tree Action MCR programme, which will see hundreds of new trees planted around Manchester as part of its response to combatting climate change. More Covid beacon trees, including other species such as ginkgos, will also be planted elsewhere in the city through the scheme as well as street trees and community orchards.
Tree Action Mcr
A new two-year project is investing £1m to plant thousands of trees across Manchester, including new street trees, park 'beacon' trees, hedges, orchids and plans for new community woodlands.
Trees bring ample benefits to the environment – improving air quality, reducing flood risk and countering the effects of climate change by removing carbon from the atmosphere.
Planting trees across the city will make a big impact on city-based carbon emissions and improves the experience of the city to visitors, by creating a green and welcoming environment.
You can also find out more about the City of Trees initiative, which similarly is working to green Greater Manchester, here.