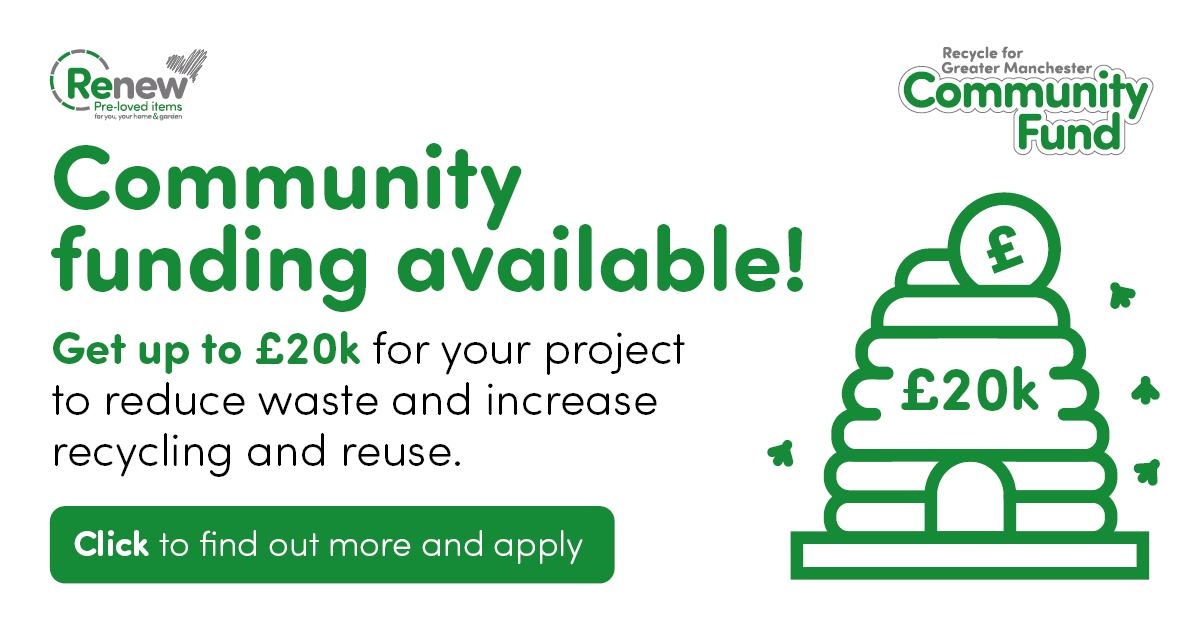 Local groups and voluntary organisations can now apply for funding to help cut waste and promote sustainability thanks to a community fund.
 The Recycle for Greater Manchester Community Fund is a joint R4GM and Suez initiative to support the Greater Manchester community and voluntary sector groups. The fund helps to deliver projects aimed at reducing household waste, increasing recycling and encouraging reuse.
 All of the money raised by Greater Manchester's Renew shops goes towards the Community Fund which means that every year, £220,000 is available for community and voluntary projects.
What kinds of projects are supported by the fund?
The fund aims to support projects which prevent, reuse, or recycle household waste, and also reduce contamination, promote sustainable use of waste and resources, and generate wider social benefits for the communities of Greater Manchester. The fund aims to encourage and support novel and innovative projects and involve a new and untried approach to tackling an issue in the key waste areas. 
Your project will need to focus on at least one of these areas.
waste prevention

increasing recycling

reuse of household waste

reducing contamination

Your project will need to focus on one or more of these priority waste streams:

Food waste

Paper and card

Glass

Textiles

Furniture

Waste Electrical and Electronic Equipment
Applications are welcome from Community and Voluntary Sector organisations such as:
Registered Charity (charity number must be provided)

Not-for-profit organisation (defined as a registered legal entity that does not make a private profit for directors, members, or shareholders)

Community, Neighbourhood or Voluntary Group

Faith group delivering community work

School, College or University
Applying organisations must be based in one or more of the following 9 Greater Manchester council areas; Bolton, Bury, Manchester, Oldham, Rochdale, Salford, Stockport, Tameside, and Trafford (excluding Wigan as they operate separate waste disposal arrangements).
The Community Fund is part of the Greater Manchester Environment Fund (GMEF), an independent initiative to provide more sustained investment in Greater Manchester's natural capital. GMEF is a charitable vehicle managed by Lancashire Wildlife Trust (LWT) and independent from the GMCA.
All applicants should read the Community Fund Guidance notes before they submit their application form.
The funding decisions will be made by a board of representatives from GMCA, SUEZ, and LWT.
If you have any questions, please contact LWT at gmenvfund@lancswt.org.uk
Want to know more? Join an online application workshop!
To support applications, Greater Manchester will be running a series of online workshops to help you understand if the fund is right for you and how to make a strong application. Click below to book your place (you only need to attend one session).