National and local cargo-bike organisations to form 'sustainability-stronghold' in Manchester, improving air quality and reducing van and lorry miles across the region.
Sustainable delivery partners, Zedify and Chorlton Bike Deliveries have celebrated the opening of their new, logistics hubs in South Manchester, Chorlton Precinct and Moss Side.
The organisations both actively sought out visible locations. One at the heart of one of Manchester's most thriving communities and a larger space strategically located close to the city centre, Trafford and Salford. They want to visibly showcase an alternative, cleaner way of transporting goods which benefits people's health and the local environment.
Chorlton Bike Deliveries, a growing not-for-profit enterprise with hundreds of local supporters and more than 50 members, will continue to undertake a range of community and commercial work across the city, including its contract with the NHS to deliver samples from GP surgeries to hospitals in the area.
Sustainable logistics pioneer, Zedify, which already operates in 11 cities across the UK including London, Edinburgh, Bristol, and Cambridge, specialise in last mile deliveries for several national customers such as Zara and Freddie's flowers. They also work with hundreds of local businesses. Within 18-24 months of launching in Manchester, they expect to be making around 190,000 deliveries, twice what they deliver in Bristol, each year. This equates to an annual CO2 savings of around 67 tonnes.
The purpose-driven partnership hopes to combine local expertise, knowledge and contacts with a winning cargo-bikes logistics model, to help achieve a less congested, less polluted, and more liveable city.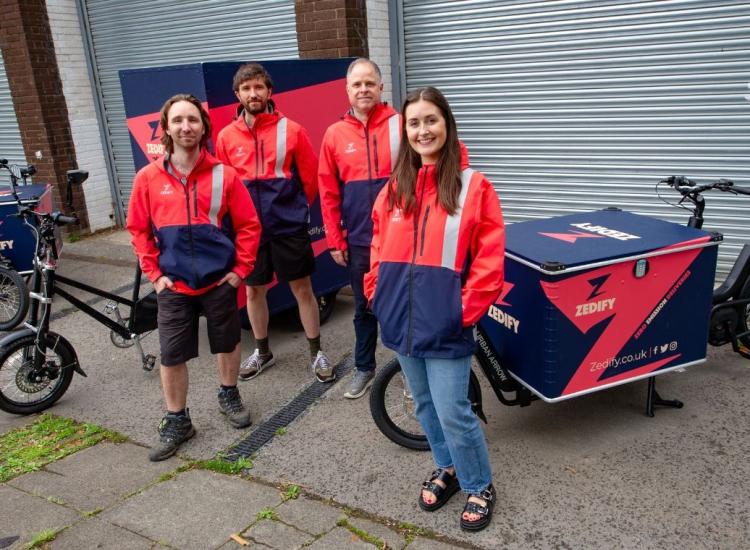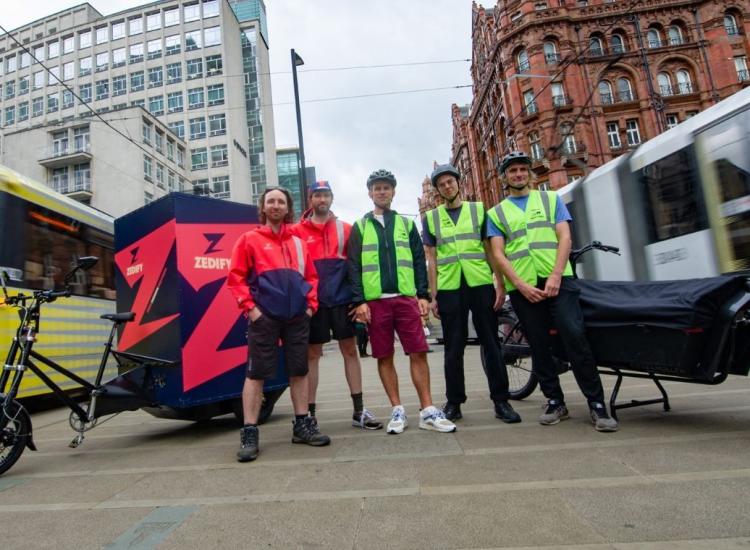 Each year, congestion costs the UK economy £6.9billion, with vans and HGVs responsible for 32% of UK transport's carbon emissions. Illegal levels of air pollution in Greater Manchester contribute to nearly 1,200 premature deaths in the city region every year – particularly affecting the most vulnerable. The organisations hope to engage businesses locally and across the city to help them tackle these issues and discover a clean way to deliver to their customers. Zedify's research finds that cargo bikes are 97% lower CO2 per delivery compared to diesel vans and 96% lower compared to electric vans.
Emma Hope, Director at Chorlton Bike Deliveries, said:
"After starting out as a grassroots response to covid in early 2020, we've grown our operation into a successful cooperative
movement, made up of riders and community groups, as well as independent and public
sector businesses.

"This latest move marks the next major milestone on that growth journey. We're looking
forward to working alongside Zedify to convert more businesses across the city to a sustainable delivery model whilst continuing to enable community organisations to support those in need."
Jon Williams, CCO at Zedify, said:
"We are launching in Manchester to fundamentally change the way deliveries take place across the city, helping to make it a better place for everyone.

"We want to take the successful approach we've adopted in other cities and work closely, alongside Chorlton Bike Deliveries to accelerate the movement in Manchester to make zero emission deliveries the norm. We are privileged to have a brilliant bunch of clients and supporters championing what we do and this new hub is a vital part of our growth."
Rachel Eyre, Head of Inward Investment for Low Carbon Projects at MIDAS, Greater Manchester's Inward Investment Agency said:
"Zedify will be a brilliant addition to the city-region, creating jobs that will contribute to a greener, Greater Manchester.

It's great to support a company to land and expand in Manchester, that is aligned with our commitments to reduce carbon emissions, whilst providing communities and businesses with unique alternative options for deliveries."
To find out more about Chorlton Bike Deliveries and sign up to stay in the loop with the latest news, visit https://chorltonbikedeliveries.coop
To find out more about Zedify services visit https://www.zedify.co.uk