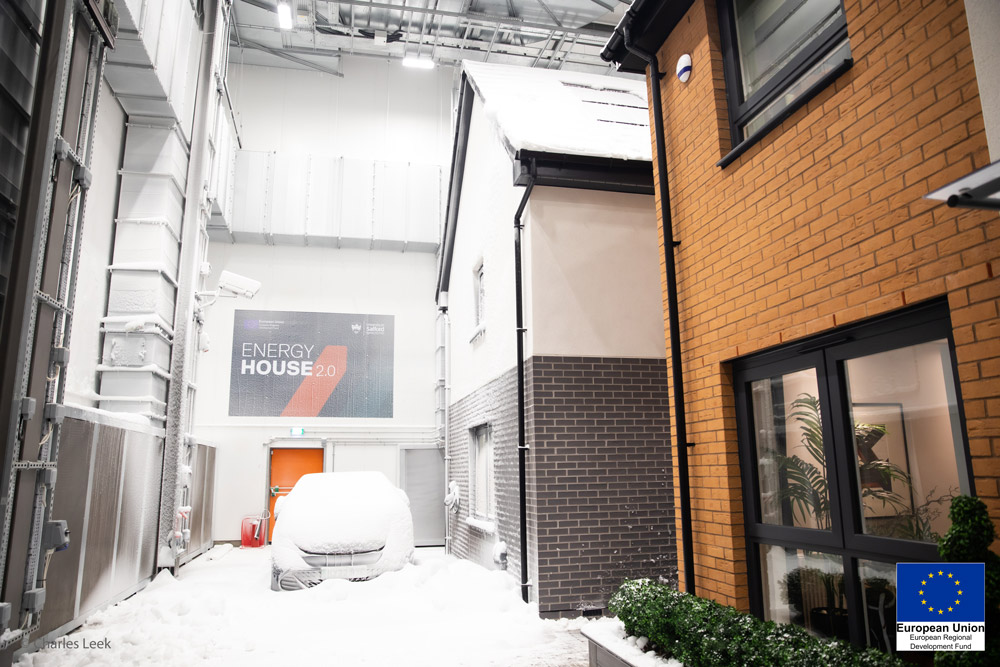 The University of Salford's world-leading energy performance test facility Energy House 2.0 will be pausing its research and offering public tours from Monday 4 to Friday 8 September 2023.
Energy House 2.0 is a £16 million project part-funded by the European Regional Development Fund. The facility has two specially-build climate chambers large enough to fit 24 double-decker buses, that can recreate temperatures ranging from -20˚C to +40˚C. The chambers can also simulate wind, rain, snow and solar radiation to replicate the climate in 95% of the earth's environments.
Energy House 2.0 will research and test, in tightly controlled conditions, new ways of powering heating and insulating homes, whilst cutting water usage. They will inform the sector about achieving a significant reduction in carbon emissions for new build homes from 2025.
The homes feature a range of new technologies, each of which could contribute to lowering the amount of carbon produced when a home is built, and the carbon footprint of the people who live in the home.
The free tours of the facility will take place every day from Monday 4 –  to Friday 8 September 2023. Each tour will last 30 minutes, with a maximum of 20 people per tour.
During these tours you'll be able to enter the chambers to learn about Energy House 2.0's capabilities and how the researchers are working to help the building industry invest in low carbon technologies and work towards net zero.
Bookings are limited to two per person and are offered on a first-come, first-serve basis.