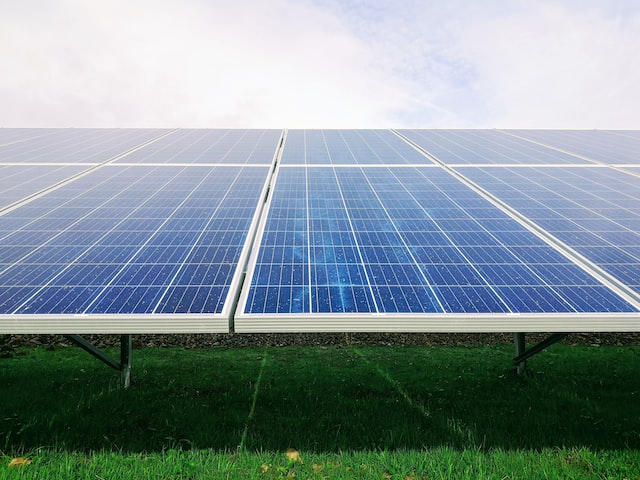 Plans for a £1.35m solar farm in Failsworth to reduce carbon emissions and cut energy bills have been approved by Oldham Council.
Oldham's cabinet has signed off on plans for the Wrigley Head solar farm development on land in Failsworth which could save up to 50 tonnes of carbon dioxide a year.
Planning permission for the council to install 2,700 solar panels on the site, which covers more than 3.5 acres, was granted in 2021.
The proposed site, bounded on either side by the Metrolink and the Rochdale Canal, is owned by the town hall and is made of 'partial hardstanding' and birch trees.
The solar farm was a plan originally drawn up in 2018, but which was paused in 2020 during the pandemic with officers saying the long-term outlook for wholesale energy prices meant that the solar farm 'no longer showed a viable business case'.
But following market testing in May of last year through the Greater Manchester Combined Authority, it was found that one energy supplier was 'informally' offering an export price of 16p per kWh, compared to the price of 5.5p assumed when the project was first proposed.
The report to the cabinet states that with improvements in technology, the scheme could have the potential to achieve one megawatt of generating capacity.
"The project could potentially in future provide electricity for an Oldham Local Energy Market to assist residents and businesses with their energy bills, as set out in the Oldham Green New Deal Strategy," it adds. 
Councillor Abdul Jabbar, deputy leader and cabinet member for finance and low carbon said: "This is a report that I've been waiting a long, long time to come before the cabinet for approval.

"It's a wonderful, exciting project. We could be the first local authority in Greater Manchester to develop a one-megawatt ground-mounted solar farm so I'm genuinely excited by it.

"It's going to deliver renewable energy for us from a site which is currently disused, it will also save up to 50 tonnes of carbon dioxide each year and that's important in our fight against climate change.

"It contributes to the target we have for carbon neutrality, not just in Oldham but also in GM."
Council leader Amanda Chadderton says "It's been a long time in the making, and it is really impressive and the potential for that site is quite significant – we have really ambitious targets in Oldham around carbon neutrality and this will go a long way to ensuring that we achieve these," 
The council will go out to tender for the scheme, and Coun Jabbar said he hopes the project could be completed by September or October this year.
The £1.35m funding for the scheme is coming from the council's Creating a Better Place capital budget, but some of it could be recouped from grant funding.