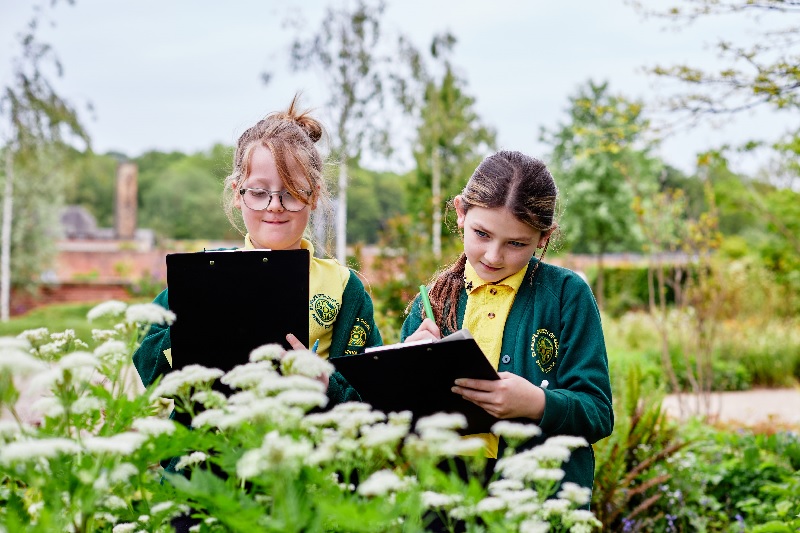 Young people across Greater Manchester will be given the opportunity to support biodiversity while learning essential green and climate resilience skills as part of a new UK wide nature park scheme.
The National Education Nature Park initiative – run by a partnership including Manchester Metropolitan University and led by the Natural History Museum with the Royal Horticultural Society – will take action on biodiversity loss through wildlife-friendly habitats where biodiversity can thrive, to developing planting schemes that support climate resilience.
It will give young people a chance to lead the way in mapping, monitoring and enhancing their learning sites for nature, and equipping them with essential green and digital skills.
It is currently in a pilot project stage, trialling new green activities in a network of outdoor spaces in schools, nurseries and colleges across England. There are more than 40 sites in the north west and west midlands, rolling out across England later this year.
Manchester Metropolitan University will play a key role in shaping the teaching outcomes of the project as well as sharing the University's facilities and expertise with local schools and colleges.
Baroness Barran MBE, Parliamentary Under Secretary of State at the Department for Education (DfE), visited a special activity day at RHS Garden Bridgewater today (May 18) as the DfE announced £15 million in funding for settings in the most deprived and nature depleted areas of the country to engage with the programme.
Chair of Trustees of the Natural History Museum, Sir Patrick Vallance, also visited the activity day at RHS Bridgewater with Professor Liz Price, Deputy Pro-Vice-Chancellor of Sustainability at Manchester Metropolitan University.
Professor Price said: "It is fantastic to see the scheme coming to life as young people begin to get involved and shape the project."As the university partner we are looking forward to engaging with local schools, colleges and education providers to ensure the best possible learning outcomes for young people, as well as seeing the lasting impact that the activities and knowledge will have on the environment."
Alongside the National Education Nature Park, the Climate Action Awards will recognise and celebrate places of education that support their students in developing green skills, championing nature and working towards a sustainable future.
The Awards are to recognise organisations achieving systemic change, to strengthen the education system to give young people the skills they need for the future.
As part of the programme, the Natural History Museum will be providing support and guidance on what makes a great evidence-informed climate change and biodiversity curriculum for all ages, developed with experts and practitioners from the Climate Adapted Pathways for Education Alliance.
This guidance will link to a range of free resources, lesson plans and schemes of work for each key stage and across different curriculum subjects, with content and teaching quality assured by the Royal Meteorological Society and partners.
Doug Gurr, Director of the Natural History Museum, said: "We are absolutely thrilled to be working with the Department for Education and our partners to make the National Education Nature Park and Climate Action Awards start to become a reality."In the face of the planetary emergency and Museum research showing that the UK is one of the most nature-depleted countries in the world, having our scientists sharing their world-leading biodiversity expertise with the scientists of tomorrow gives me so much hope, both for the future of biodiversity in this country and for the futures of the young people taking part."
Clare Matterson CBE, Director General of the Royal Horticultural Society, said: "From creating pollinator-friendly habitats, digging ponds, identifying wildlife or planning planting schemes, nurseries, schools and colleges will be able to play a driving role in mapping, monitoring and enhancing biodiversity on their doorstep."Children and young people will have a chance to create and grow a garden that works for wildlife, to learn new skills and understand impacts of climate change – all of which offers a gateway to a lifelong interest in nature, biodiversity and sustainability."
All education settings in England will be able to sign up to become part of the National Education Nature Park and work towards the Climate Action Awards via a new online platform, set to launch in the Autumn term.