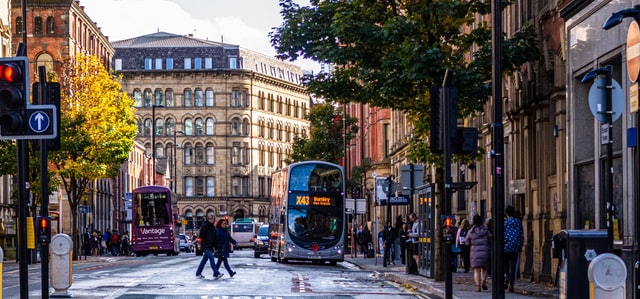 Greater Manchester secures former Transport for London Managing Director as new Transport Commissioner
New franchising timeline set out after judicial review gives green light for city-region to bring buses back under public control
Plans supported by £1.2bn five-year investment programme, with more than £430m to improve bus services across the city-region
Mayor of Greater Manchester, Andy Burnham, has announced a series of major steps to move Greater Manchester towards a London-style public transport system.
During a major event to outline a new era for Greater Manchester – held at Escape to Freight Island in front of the city-region's key business, political and civic leaders – the Mayor set out a revised timetable for the introduction of bus franchising, which will see:
Regulated buses first introduced in Bolton and Wigan as well as parts of Salford and west Manchester from next autumn (2023)
Bury, Rochdale, Oldham and areas of north Manchester to follow in Spring 2024
Final tranche covering Stockport, Trafford, Tameside, south Manchester and remaining parts of Salford to run by end of 2024
It signifies a key next step towards the delivery of the Bee Network vision, with the Mayor announcing that Greater Manchester is moving to the next important stage of franchising bus services.
Transformed bus services is a key pillar of the Bee Network vision, which aims to provide real public transport and active travel choices for all; promote sustainable travel behavioural change through integrated city-region planning; support the electrification of vehicles and public transport fleets; promotes levelling up through the provision of sustainable transport connectivity to key growth locations and the provision of affordable public transport options for all our communities.
Greater Manchester will have a new Transport Commissioner, with former Transport for London (TfL) Managing Director of Customers, Communication and Technology, Vernon Everitt, set to take a leading role in the delivery of the Bee Network.
Vernon Everitt, the Mayor's new Transport Commissioner, said: "It is a privilege to be given the responsibility to help write the next chapter of Greater Manchester's ambitious and truly transformational transport story. The Bee Network vision sets out a compelling plan for better transport and I will bring all my experience to the table to ensure we deliver it.
"Our integrated transport network will unlock access to opportunity and public services, and drive reduced carbon emissions and improved wellbeing, benefitting everyone who lives, works or visits here. I look forward to working with the mayor, councils, transport operators and people across Greater Manchester to deliver a world class public transport system."
The Greater Manchester Independent Prosperity Review found that parts of Greater Manchester with lower productivity, pay and living standards need infrastructure that supports both access to jobs in the centre of the city-region and improved local job opportunities.
Improving public transport connectivity into and between Greater Manchester's major centres and other growth locations is a key part of proposals contained within the Bee Network vision – which will, subject to agreement with government, be supported by an initial £1.2bn five-year programme of investment, with £438m worth of investment to improve buses, routes and services, including:
£205m for new electric buses and infrastructure, supporting a move to a cleaner, greener city-region;
£202m to improve bus services, with new quality bus lanes, corridors, and junctions to improve connectivity between our towns and cities; and
£30m to improve bus passenger information, fares and ticketing
Andy Burnham added: "I'm delighted to welcome Vernon onboard, as we deliver a new era of London-style transport for Greater Manchester. He is a great signing for this city-region. Our new Transport Commissioner spent 14 years as a Managing Director at Transport for London, leading on London's integration of public transport through simple and intuitive fares, ticketing and customer information.
"In Greater Manchester we are leading the way and developing a blueprint for other city-regions to follow when it comes to improving intra-city transport and connectivity between our villages, towns and cities. My ambition is that soon here in Greater Manchester it will be simpler, cheaper and more reliable to get around on public transport."
ENDS