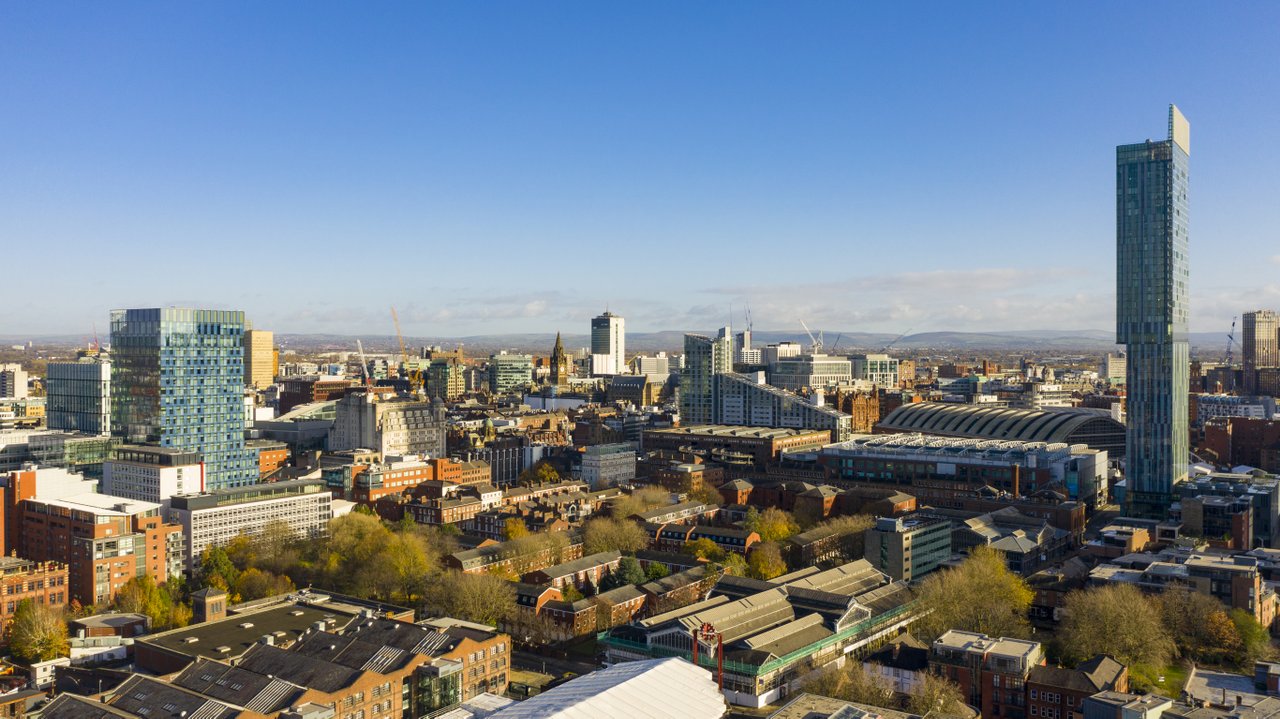 An exciting project to create net zero solutions for commercial and public sector buildings has received a share of a £100m funding pot as part of city-region's Innovation Accelerator programme.
The Energy Innovation Agency will lead on Energy Accelerator for Non-Domestic Buildings, a project to help accelerate the deployment of the latest and greatest net zero energy innovations to help commercial and public sector buildings to decarbonise rapidly.
With the UK's built environment accounting for 25% of the UK's greenhouse gas emissions, it's never been more important to make better use of energy more resilient, more sustainable, more affordable, and support a just-transition.
The project will support the development, testing, and deployment of energy efficiency, decarbonisation of heat, and renewable energy solutions in Greater Manchester (GM), attracting more innovative businesses to grow here.
David Schiele Director of the Energy Innovation Agency says, "The £100m announcement is great news for Greater Manchester and we are very proud to be part of it. The project will extend our existing innovator service, attracting more innovative businesses to GM, increasing the impact on net-zero targets, and supporting the growth of an innovation led economy in the region.

Our Energy Accelerator for non-domestic buildings is a great opportunity for us to accelerate the energy transition – supporting local and national need for decarbonisation".
The Agency will also work in partnership with the University of Salford on the Future Homes Project, an exciting partnership between industry and academia using the unique facilities at the University's Energy House and Energy House 2.0 to develop net zero technologies for homes.
These two projects are part of ten Greater Manchester projects that will receive funding and support after being selected to become part of the city-region's Innovation Accelerator programme.
Greater Manchester was asked by UK Government to pilot the Innovation Accelerator programme alongside the Glasgow City Region and the West Midlands. The programme provides a total of £100m shared across the three regions, as well as support for developing each area's innovation ecosystem.
The funding, awarded by the Department for Science, Innovation and Technology (DSIT), has been allocated to innovative projects in sectors where Greater Manchester has existing research strengths.
George Freeman Minister of State for Science Research & Innovation at DSIT says "Through Record investment in our UK science, technology and innovation sectors, the Innovation Economy is creating new career opportunities in the campuses, clusters & companies of tomorrow.

That's why UKRI is putting clusters at the heart of its of its £25bn budget up to 2025, and why our £100m Innovation Accelerator Program provides £33m each to 3 emerging clusters to attract industrial co-investment and become major, globally competitive centres for research and innovation.

The Greater Manchester Cluster is becoming a world class hub of R+D in AI and advanced computing, advanced manufacturing and Net Zero Cleantech and associated technologies.

I'm delighted that local leaders have come together to use our £33m to launch such exciting programs with industry and Universities in this exciting area."
All of the IA Programme projects will formally commence this Spring once they have undergone Innovate UK's normal due diligence checks ahead of formal grant offer letters being issued.
About Energy Innovation Agency
The Energy Innovation Agency (The Agency), a unique partnership between the public, private and academic sectors in Greater Manchester (GM), formed in 2021, is tasked with accelerating carbon emission reductions in GM and transitioning the city-region to a carbon-neutral economy by 2038.
The Agency is supporting energy innovators with innovative low-carbon (LC) products in GM, to scale their solutions and businesses in GM by connecting them with end-users and increasing the deployment of LC solutions.
About The Growth Company
The Growth Company is an award-winning social enterprise with a mission to enable growth, create jobs and improve lives. We provide individuals and businesses with a wide range of services that improve employment, skills, investment, and enterprise for the benefit of all.
You can find out more about the Energy Innovation Agency here and about the Growth Company here.