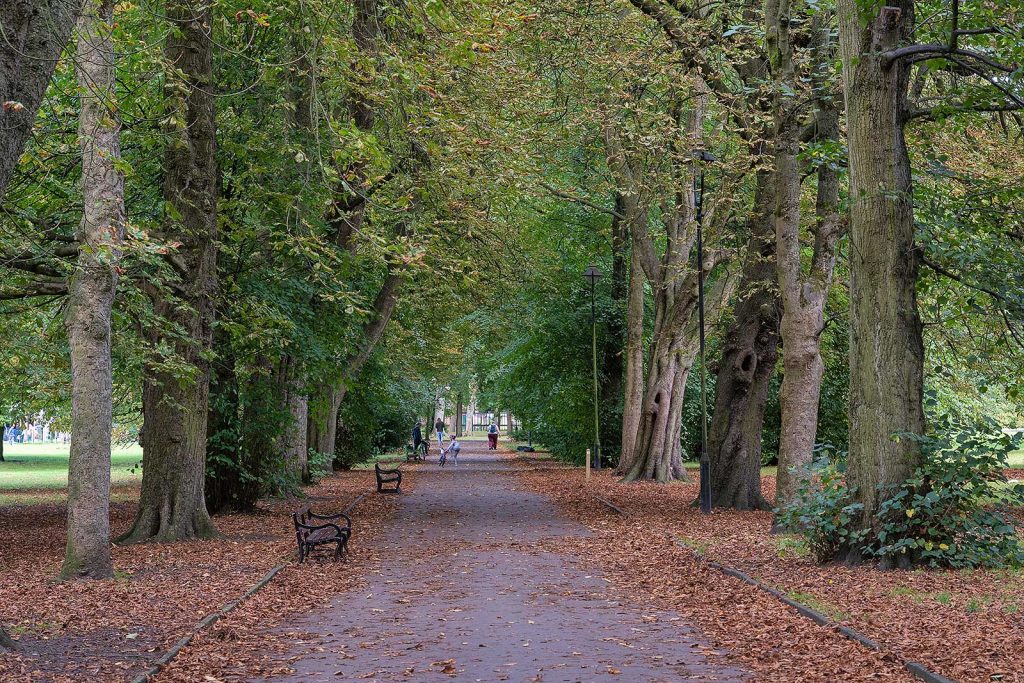 One of Trafford's oldest and most famous public parks is set to be transformed as part of an exciting multi-million-pound project, enhancing the borough's green space.
Trafford Council has been told that its bid for more than £3m from The National Lottery Heritage Fund towards the £6m restoration and development of Longford Park in Stretford has been successful.
The Council can now push forward with its ambitious plans for the park, a designated conservation area which was the former home of John and Enriqueta Rylands. They built Stretford Public Hall and other public buildings around Stretford along with the famous John Rylands Library on Deansgate.
The plans include a new learning, training and volunteering hub in the historic long barn and improved sport and recreational facilities including a new BMX course and revamped sports courts and play areas.
Proposals also include the redesign of features such as the former Longford Hall site and gardens, a revamped Pets' Corner, the de-culverting of Longford Brook, plus new footpaths, seating, lighting and multi-media interpretation.
The successful bid now means there is funding available for two new members of staff to be employed via partner organisation City of Trees, who will be responsible for delivering a programme of events, activities and community engagement to broaden the park's appeal and impact in line with the approved activity plan.
The proposals have been developed in conjunction with consultants The Environment Partnership (TEP), The Friends of Longford Park, City of Trees and the One Trafford Partnership, made possible by development grant funding from The National Lottery Heritage Fund in addition to council funding. Public consultation events, workshops and online surveys have taken place over the past couple of years asking residents, visitors and local organisations if and how they used Longford Park, with over 300 responses received and used to refine the plans.
Trafford Council is committed to improving residents ' health and wellbeing and has made addressing our climate crisis a major corporate priority.
Cllr Liz Patel, Trafford Council's Executive Member for Economy and Regeneration, said: "The successful bid to The National Lottery Heritage Fund is fantastic news for both the Council and local residents. We can now push ahead with our exciting plans to transform Longford Park – the largest park in Trafford.

"Parks are very important to us in Trafford as they provide welcome green spaces in our neighbourhoods, help to keep people healthy and active and provide a space for nature. Our proposals will make Longford Park an even more incredible space for thousands of local residents and visitors now and in the future. Thank you to everyone who has worked so hard and contributed to this project win. It's going to look amazing."
Helen Featherstone, Director, England, North at The National Lottery Heritage Fund said: "Regenerating and conserving public parks is a high priority for us at the Heritage Fund as we are committed to promoting environmentally sustainable heritage that improves people's health and wellbeing. Thanks to money raised by National Lottery players, we are delighted to support Trafford Council with this project that will transform Longford Park so that local people and visitors to the area can enjoy it for years to come."
Richard Bond, chairman of The Friends of Longford Park, said: "The Friends of Longford Park (FOLP) are delighted to hear that The National Lottery Heritage Fund has backed Trafford Council's bid. This major investment will transform the fabric of Trafford's largest public park. Drainage problems will be tackled by a series of measures, including making Longford Brook a surface feature again for the first time since 1936. The Long Barn will be brought back into public use, complementing Longford Scouts' transformation of the adjacent Shippon buildings. We welcome, too, the planned improvements for children's play areas, lighting and paths.

"More importantly, the plans will enable a much higher level of community engagement in what is already a very popular public space. The creation of two new posts is key here, particularly a volunteer co-ordinator who can respond to the many requests to volunteer in the park and support existing groups, not to mention setting up new groups. We already have plans to expand the gardening group which is gradually transforming the area round one of the park shelters. Longford Park has long been the jewel in the Crown of Stretford, and Lottery funding will further enhance its attractions for those in Stretford and surrounding areas."
Work is expected to start on site in autumn 2024.