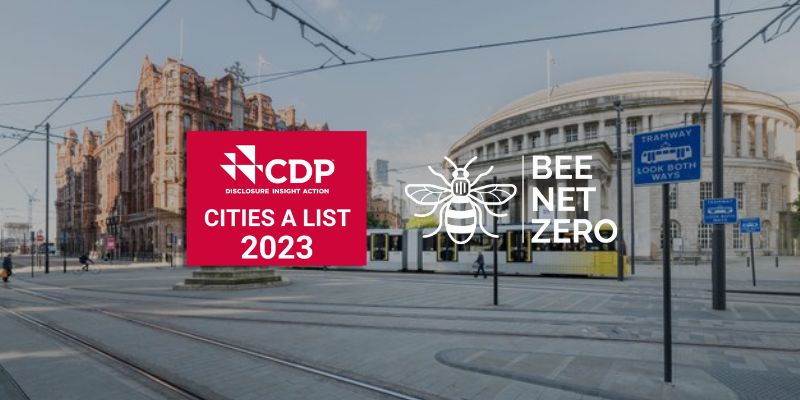 Greater Manchester retains its status as one of the leading cities in the world for climate action
For a third consecutive year, Greater Manchester has been recognised by CDP as one of 119 cities across the globe that is taking bold leadership on environmental action and transparency, even in the wake of an increasingly challenging global economic landscape.
Only 13% of cities that were scored in 2023 received an A Score, including Greater Manchester.
Designed to encourage and support cities as they ramp up their climate action ambitions, CDP's Cities List is based on environmental data disclosed by cities to CDP-ICLEI Track. 
CDP is a global non-profit that runs the world's environmental disclosure system for companies, cities, states and regions. Founded in 2000 and working with more than 740 financial institutions with over $136 trillion in assets, CDP uses capital markets and corporate procurement to motivate companies to disclose their environmental impacts and to reduce greenhouse gas emissions, safeguard water resources and protect forests.     
This year, over 900 cities (939 in total) received a rating for their climate action from CDP, demonstrating a clear momentum in city climate disclosure and action across the globe.
To score an A a city must disclose publicly through CDP-ICLEI Track, have a city-wide emissions inventory and have published a climate action plan alongside other actions. It must also complete a climate risk and vulnerability assessment and have a climate adaptation goal which demonstrates how it will tackle the hazards presented by climate change in the future.
Many A-List cities are also taking a variety of other leadership actions, including a political commitment from a city's Mayor to tackle climate change. With a science-based target to become net zero by 2038, twelve years ahead of the UK government target and many region-wide initiatives to lower carbon emissions, Greater Manchester demonstrates political leadership and commitment to becoming net zero.
A-list cities like Manchester are widely regarded as leaders in this space, demonstrating their climate leadership through concerted and effective action, just as national governments will be asked to do at COP28. They are taking four times as many mitigation and adaptation measures as non-A List cities.
Greater Manchester and the other 118 cities on this year's A-List are also celebrated for showing that urgent and impactful climate action – from ambitious emissions reduction targets to building resilience against climate change – is achievable at a global level and in cities with different climate realities and priorities. Cities like ours can be the real instigators of change, but to meet 
To keep up with more net-zero developments across Greater Manchester, follow Greener Greater Manchester on LinkedIn and Twitter.
Learn more about how to make your Greater Manchester business more sustainable and reduce your energy costs, with independent support and guidance from the Bee Net Zero partnership.