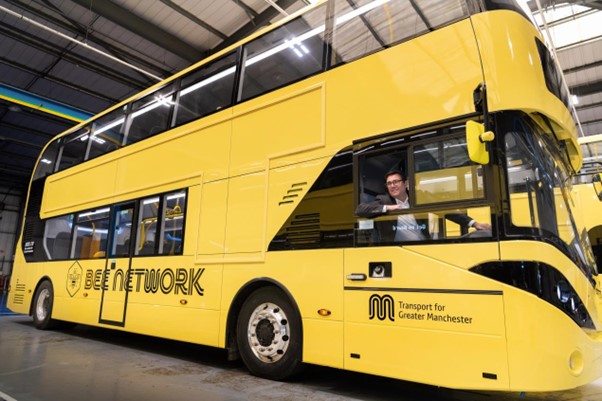 With just one month to go before Greater Manchester brings buses under local control, Andy Burnham Mayor of Greater Manchester joined the Transport Commissioner and Local Authority leaders to explain how passengers will be better off with the Bee Network.
For the first time in almost 40 years, the Bee Network – Greater Manchester's plan for an integrated London-style low-fare, high-volume transport system – will enable bus routes and fares to be set at a local level.
Improved services and integrated routes
Following the introduction of franchised bus services on 24 September, improvements are planned in Bolton, Wigan and parts of Bury, Salford and Manchester – the first to be brought under local control – that will see them run earlier and later, as well as better integrating them with first and last train and tram services. 
This will include the 471 Bolton-Bury-Rochdale service and 362 Standish to Wigan buses and will be reflected in other areas of Greater Manchester as franchised services roll out across the region.
The daytime frequency of the V1 and V2 services on the Leigh Guided Busway will also be increased, with eight buses in each direction every hour. 
Additionally, V2 services from Atherton to Manchester Royal Infirmary (MRI) will be reinstated as soon as possible.
As well as prioritising performance and reliability, bringing buses under local control will be more efficient and effective than the current deregulated market, with franchised services costing less than those recently funded by TfGM after they were withdrawn by operators.
Mayor of Greater Manchester, Andy Burnham, said: "It's now just one month until we start to bring buses back under local control. With cheaper fares, new electric buses, earlier and later running services and improved customer information, people really will be better off with the Bee Network.

"We've reached an exciting moment on our journey to improve how people can travel across the city-region. It was great to see our striking fleet of 50 new electric, yellow buses here in Greater Manchester, with the final touches now being applied before they start operating next month.

"The final countdown to the start of the Bee Network is well and truly on."
Greater Manchester Transport Commissioner Vernon Everitt said: "The launch of bus franchising in one month is a significant milestone as we build an integrated public transport and active travel network that our residents, businesses and visitors deserve in a rapidly growing and thriving city-region.

"Delivering transport options that are safe, reliable, affordable and inclusive is essential in enabling further sustainable economic growth, new jobs and homes and access to education and leisure. 

"We continue to take action to make transport affordable, simpler to use and joined up. A single adult bus fare remains £2 with unlimited journeys available for £5 all day and the cost of a weekly bus pass remains capped at £21.

"Meanwhile, new combined bus and Metrolink fares from September will save customers 20 per cent compared to buying those fares separately. On completion of bus franchising in January 2025, there will be full 'tap and go' integration of Metrolink and bus fares with train journeys brought within the system as soon as possible after that. We're delighted to present these positive changes to bus services, including clear commitments to our customers and a new fleet of state-of-the-art Zero Emission buses. This is just the beginning of the transport revolution in Greater Manchester."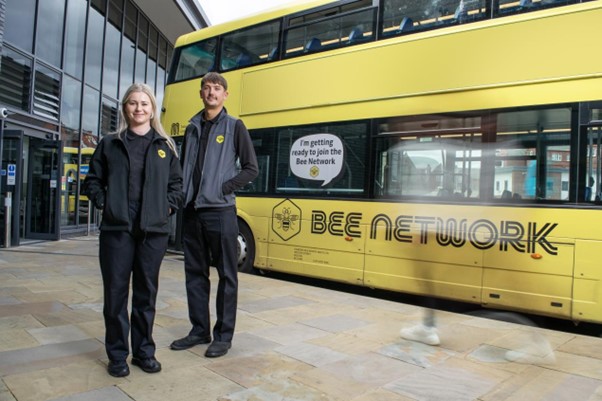 To mark the one-month-to-go milestone, the first fleet of 50 new, Zero Emission, Bee Network-branded buses for Greater Manchester was unveiled by Mayor Andy Burnham and Transport Commissioner Vernon Everitt during a visit to the depot in Wigan where they are being stored.
Additional electric buses, along with a range of new Euro VI buses, will start to be delivered within six months of 24 September. 
Accessibility
The zero-emission electric buses are fully accessible and offer a range of customer improvements including two bays for wheelchair users, hearing induction loops, audio and visual announcement systems and anti-slip flooring.
As part of the Bee Network's commitment to ensuring that services are accessible to everyone, transport leaders have engaged with charities and passenger groups across the city-region. Henshaws, a regional charity that supports people living with sight loss and a range of other disabilities, and other groups have advised on the design of the new Bee Network buses.
Bev Norris, a member of Henshaws User Voice Group, said: "It's been a privilege to advise on the design of the fantastic new zero-emission buses and great to see the enormous amount of collaboration along the way, as well as the genuine interest and enthusiasm of TfGM staff.

"I can't wait to try out the new buses and experience the various features which will make the vehicles so easy to use. We Mancunians are immensely proud of our city-region and, to have been part of a scheme to enhance the place for all and for visitors, too, is simply wonderful."
Safety
To provide passengers with reassurance and help tackle anti-social behaviour, 30 new TravelSafe Support and Enforcement Officers (TSEOs) will be patrolling franchised bus services, interchanges and bus stations from 24 September.
While TSEOs will focus on customer support and providing a reassuring presence, they will also carry out ticket inspections on buses. The team will expand their operations as franchising rolls out and will be patrolling all bus services, stations, and interchanges by 2025.
Money generated from ticket sales will be reinvested into public transport services for the benefit of all passengers, and the new TSEOs are being introduced as part of a broader strategy to tackle fare evasion across all modes of public transport in Greater Manchester, with financial penalties – known as the Standard Fare – set to increase from £100 to £120 in the Autumn for anyone found travelling without a ticket on Metrolink or Bee Network bus services.
The Bee Network A

pp
To help customers plan their journey, buy tickets and give feedback on an operator's performance, a new Bee Network app and website also launch on September 18. In time, additional features will be rolled out including journey planning and disruption information, making the Bee Network app the one-stop shop for public transport in Greater Manchester.
The Bee Network's Commitment 
To ensure passengers know what to expect from their public transport trips, a clear set of Customer Commitments has been developed with input from the people of Greater Manchester based on the Bee Network foundations – Safe, Accessible, Affordable, Reliable, Sustainable and Accountable. 
Mayor Andy Burnham added: "The Bee Network places accountability at its heart. The network will be run for the people of Greater Manchester, with public transport staff committed to delivering high-quality customer service.

"Our Customer Commitments are crystal clear. They set out what people should expect from their bus journeys and if things do go wrong, or people feel those commitments haven't been met, we want people to then be able to hold transport operators and leaders to account."
New tickets and fares
As announced in June, a range of new tickets will make travel across the whole of Greater Manchester cheaper and easier from 24 September. The new Bee AnyBus + Tram tickets will make combined bus and tram travel around 20% cheaper than buying products separately. Capped daily bus fares have also been extended for another year to September 24.
Councillor Paul Prescott, Wigan Council's portfolio holder for environment, transport and infrastructure, added: "It's brilliant that with every day that passes, we're journeying ever closer to our Bee Network destination to transform how people travel around Wigan and the rest of Greater Manchester. 

"Making sure our residents are well connected and able to access affordable travel both across the borough and the wider region is really important to us, and we're pleased that we have the opportunity to lead the way and be amongst the first to bring buses back under local control." 
The Uniform
The Bee Network staff uniform has also been unveiled. It provides passengers with a clear and visible way of knowing who to approach for help and assistance when they are travelling on the network.
Drawing on Manchester's long-time association with the symbol of the worker bee, the uniform features the distinctive Bee Network logo and its design ensures it can be worn by everybody. It takes into account gender identity and religious requirements – and has been tested to ensure maximum comfort, safety, practicality, and style.
When will the transition to the Bee Network begin?
Bus franchising is being delivered in phases, with buses coming under local control in Rochdale, Oldham, Bury and parts of Manchester, Salford and Tameside from 24 March, followed by the rest of Greater Manchester from 5 January 2025.
The ambitious plans will bring in local rail services by 2030 and will continue expanding walking, wheeling and cycling routes. Meanwhile, from the start of the new school year in September 2023, 84 bus services for 31 schools in Bolton, Wigan and parts of Manchester, Salford and Bury will join the Bee Network. There will be no changes to the schools served or the number of buses used on these services, and children can continue to use them as normal.