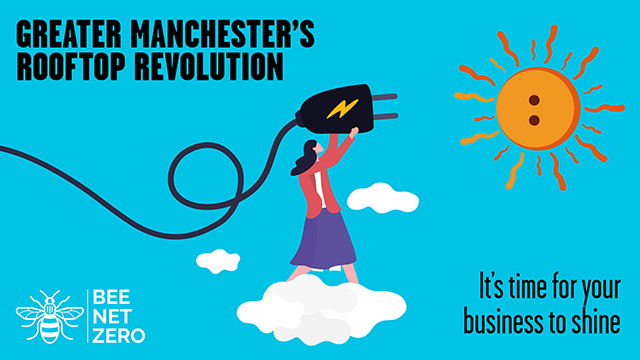 Greater Manchester's Bee Net Zero partnership is urging more businesses in the city-region to join a "rooftop revolution" and install PV solar panels on their premises.
The organisation, whose partners include Electricity North West, the Greater Manchester Business Board, TfGM, and the Greater Manchester Combined Authority, is calling on businesses to take advantage of the city-region's 1,400 annual average hours of sunshine each year and make the switch to solar energy.
The Rooftop Revolution campaign aims to simplify the switch to solar by helping businesses to connect with local suppliers, understand the business case, learn about potential barriers, and gain the confidence to invest in solar.
With energy bills currently at high levels, the average payback time for a solar PV install is now between four and six years, with the investment enabling SMEs in the city-region to reduce annual electricity costs by £4,000 to £11,000. The Rooftop Revolution campaign brings together the advice from Bee Net Zero partner organisations to provide businesses of all shapes and sizes across Greater Manchester with the guidance they need to adopt green tech.
Bee Net Zero's solar landing page provides resources and information on everything businesses need to know about installing solar, including information on finance, suppliers, and case studies from businesses that have recently made the switch.
This includes a guide created by Bee Net Zero partner Green Economy to help businesses understand how solar can be a part of their net zero action plan. It aims to demystify some of the technical aspects of installing solar while matching businesses with the right installer and helping them how to overcome common barriers.
Steve Connor, Green Lead for Greater Manchester Business Board (LEP), said:
"For businesses considering installing solar on their premises – the time is now. It has enormous potential to help businesses save thousands on their energy bills while bringing down carbon emissions. Greater Manchester gets much more sunlight than people realise, and this offers businesses a low-cost, low-carbon source of electricity which can help them save money and become more sustainable from the day of installation.

"Energy costs have risen considerably, but the payback period on a solar installation is only getting shorter. Through Bee Net Zero and its partners, including Electricity North West and Green Economy, all the resources to help your business install solar PV are in one place. The benefits are now too good to ignore – join the Rooftop Revolution and contact Bee Net Zero to explore how we can help."