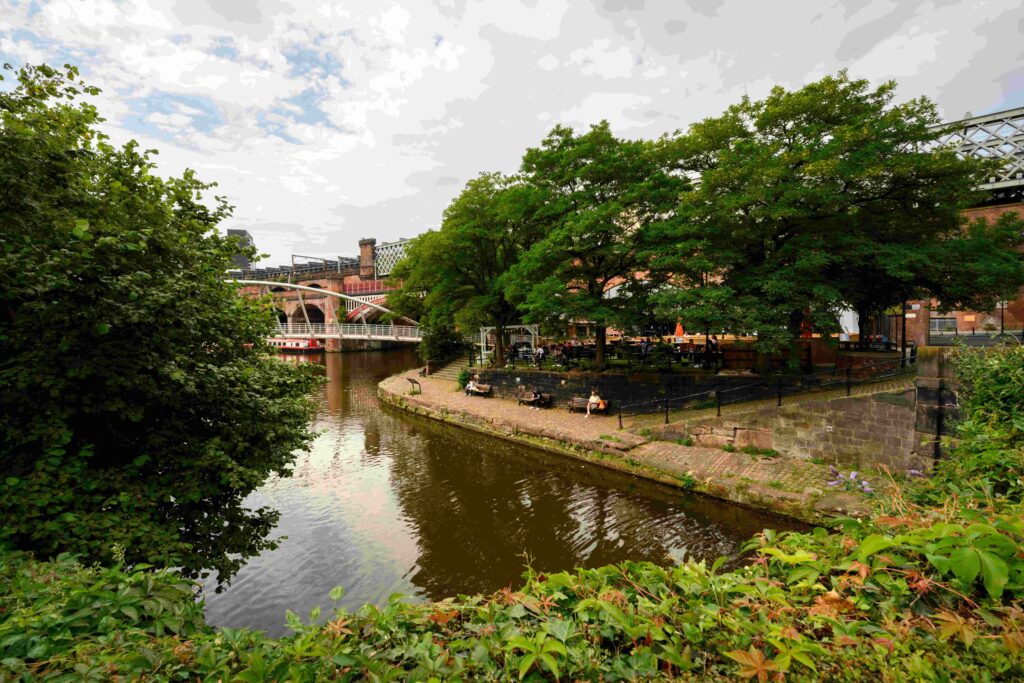 Greater Manchester is set to become the first city-region in the UK to adopt an accelerated plan for carbon reduction over the next five years – seen as critical by experts to achieving long-term net zero goals.
Radically reducing carbon emissions by a million tonnes over three years and overhauling public transport across all 10 boroughs are key parts of the city-region's Levelling Up Deal, submitted to the Government.
Mayor of Greater Manchester Andy Burnham called on over 500 delegates attending the fourth Greater Manchester Green Summit (18 October) to support the plan. He said that the drive to net zero carbon can act as the catalyst to level up the city-region's transport, homes and jobs. But it will require the Government to act now, in the next Spending Review, if national climate goals are to be met.
Greater Manchester's proposed Levelling Up Deal, if implemented in full, will remove a million tonnes of carbon from the city-region's economy:
850,000 tonnes from retrofitting and energy generation
Heat decarbonisation and retrofit programmes across public sector, school, higher education, social housing (c660k)
Go Neutral smart energy programme – low carbon renewable energy generation and smart energy assets (c30k)
Launch of retrofitGM for privately-owned homes (c160k)
100,000 tonnes through public transport overhaul
Shift to electric buses and taxis, increased levels of cycling and walking, increased Metrolink use, EV chargers installed and utilised across city-region (c100k)
In addition, various business support programmes, led by the Greater Manchester Local Enterprise Partnership, will enable private enterprises to contribute to the city-region's drive towards a net zero future.
Mayor of Greater Manchester, Andy Burnham, said: "The country is at a critical juncture on the journey to net zero. If we don't accelerate now, we run the risk of being unable to hit our national goal of 2050. And we are in danger of welcoming the world to COP26 in Glasgow in a few weeks to discuss these crucial matters but presenting a response that is insufficient to the scale of the challenge.

"This is where Greater Manchester can help. We have a detailed, science-based plan for a levelled-up net zero city-region by 2038 – with better transport, homes and jobs for our residents. And we are ready now to up the pace over the next five years through the Levelling Up Deal we have presented to Government. If they back us at the Spending Review next week, we will be the first UK city-region on an accelerated path and a template for others. This will add real credibility to the UK Government's COP26 image to the world.

"As the only city-region that has taken the decision to put buses under public control, we are uniquely placed to speed up decarbonisation of transport. We hope the Government will work with us to make the most of this opportunity."
At this year's Summit, taking place ahead of the United Nations Climate Change Conference (COP26) in Glasgow at the end of the month, the Mayor called on Government to deliver on its pledge to level up the country by backing the city-region's ambitious green agenda. He also reinstated the case for a London-style public transport system making transport affordable and accessible, with hundreds of kilometres of new cycle lanes, 50km of new bus lanes, and with 30-50% of our buses switched to electric within four years.
Delegates also heard how Greater Manchester has made faster progress in the past four years than over the entire preceding decade, made possible by whole-system transformation, incorporating housing, design and innovation, regeneration, smart energy and jobs and embracing low carbon heat and renewable energy generation and storage.
The Greater Manchester Green Summit 2021 was held in partnership with Manchester Metropolitan University and Electricity North West, and took place under the theme of 'Taking Action: Today, Tomorrow and Together'. Adding to the sense of innovation and ambition, throughout the day in keynote speech and plenary sessions it highlighted some of the key actions, projects and activities that are happening across Greater Manchester to help deliver a carbon neutral, green city-region by 2038.
---
Greater Manchester's ambition to be carbon neutral by 2038
As one of the first cities-regions in the world to set a science-based carbon reduction target in 2019, Greater Manchester is working to hit carbon neutrality by 2038, 12 years ahead of the national target. It is the first city-region to have truly embraced a whole-system approach to delivering a decentralised and decarbonised energy system for its residents and businesses, and future ambitions require the whole Greater Manchester system to work together to achieve innovations, efficiencies and transformations.
Greater Manchester is the first and largest city-region to develop Local Area Energy Plans, showing how we will heat and power every street in every borough by April of next year. Locally generated energy will increase regional security of supply as energy prices increase globally. The city-region has also set up a Buildings Retrofit Taskforce to create a thriving local retrofit market and will procure GM Retrofit, which will support the 30% of Greater Manchester households who wish to pay for the necessary home improvement measures needed to heat their homes sustainably. And the city-region will invest in £27m of Green Homes Grant to retrofit fuel poor homes this year, as well as £78m in retrofitting over 150 public buildings this year alone.
---