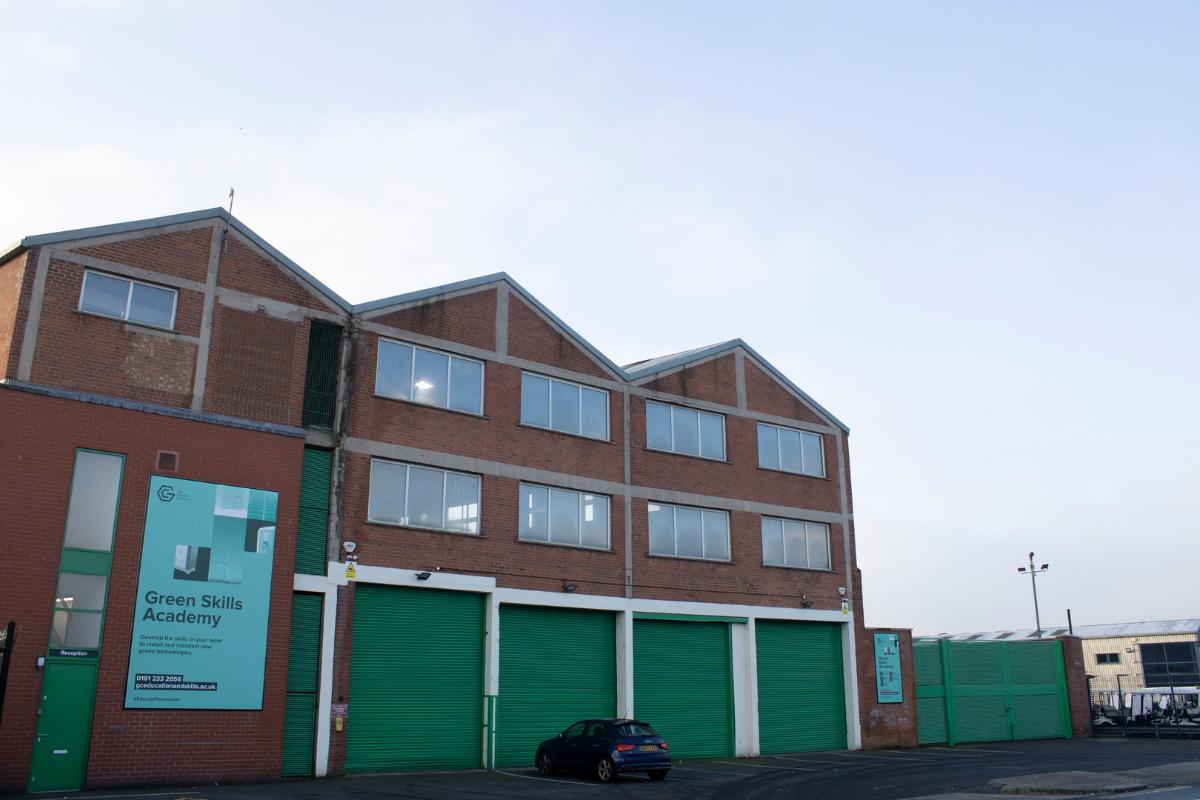 A new Green Skills Academy is launching in Greater Manchester this week, as part of the city-regions effort to lead and accelerate the UK's transition to Net Zero.
Described as the "first of its kind" in the UK, the Green Skills Academy, established by The Growth Company, will open in Trafford Park on Thursday 19 January.
The Academy boasts innovative green technologies and offers comprehensive training in a range of skills. It will play a "critical role" in Greater Manchester's ambitions to become a net-zero city-region by 2038 and also support businesses UK-wide to help hit the national 2050 target.
It is home to the latest equipment that will help prepare today's workforce for the opportunities and challenges presented by the global transition to a carbon-neutral economy.
The Academy hosts several real-world work environments, including a model house to show how existing homes can be entirely powered by green technology. The onsite Low Energy Smart Home includes state-of-the-art automated technology as well as heat recovery and cooling systems that demonstrate how responsive they can be.
With an increased uptake in green technology like ground source heat pumps, demand is growing for people with the necessary skills to install, repair and maintain these facilities. The Green Skills Academy offers several courses and can train up to 100 learners per day on-site.
The Green Skills Academy has been established by the Growth Company, an award-winning social enterprise.
The courses are open to apprentices, sole traders and organisations of all sizes to help future-proof the workforce in these specialist areas.
There are opportunities for those working in skilled trades across the North including electricians, plumbers, roofers, gas engineers, construction workers, heating programmers and technicians
Roosevelt Alexander, director of the Green Skills Academy, commented: "A mass roll-out of sustainable energy solutions remains vital to accelerate our country's transition to net zero carbon, and the impact of rising energy costs across the country is giving new impetus to the urgency.

"A tremendous effort is required for this transition, and we see the Green Skills Academy as being on the front line in terms of how we will help our workforce, individual households and communities to play a key part in the fight back against climate change."
Andy Burnham, Mayor of Greater Manchester, said: "It's fantastic to see the Green Skills Academy come to fruition. As a hub for the latest qualifications and skills opportunities, it will give people the invaluable experience needed to work with emerging green technologies. I can't wait to see learners of all ages become part of the story here.

"Credit has to go to The Growth Company for having the ambition and foresight to invest in the Green Skills Academy. I'm excited to say that Greater Manchester can boast about another first for the UK, putting the city-region and the North at the forefront of tackling the green skills gap and meeting our climate challenges head-on."
Rothwell Plumbing Services Group (RPS) Group has already appointed the Green Skills Academy as its 'Centre of Excellence for the North of England' and will be encouraging all apprentices, engineers, and business partners to participate in its training programs and courses.
Graham Rothwell, chief executive of RPS Group, said: "Our sector is facing a green skills shortage but, by working in collaboration across Greater Manchester and beyond, we can help to plug the green skills gap, create jobs for local people and provide new training opportunities."
The Green Skills Academy will officially open on Thursday, January 19, supported by a team of qualified employees who will train the next generation to tackle climate change and develop the economy of tomorrow.