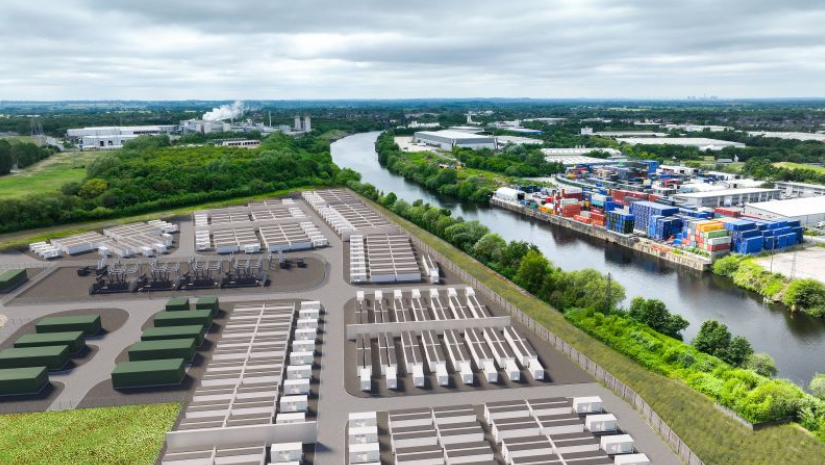 Plans have been approved to build one of the world's largest battery energy storage schemes (BESS) at the Trafford Low Carbon Energy Park.
The £750m, 1GW project has been designed to strengthen the security and resilience of the energy system in the North West while supporting the energy transition and the growth of renewable power generation in the region.
Subject to a final investment decision, construction is expected to begin in the first quarter of 2024, with it entering commercial operation in the final quarter of 2025.
Carlton Power is in advanced talks with companies to finance, build and operate the Trafford BESS.
The project is the company's second major energy project that has been consented for the Trafford Low Carbon Energy Park, eight miles south of Manchester. The other project is the 200MW Trafford Green Hydrogen scheme – the first phase (15-20MW) is also set to enter commercial operation in Q4 2025.
In March 2023, the UK Department for Energy Security & Net Zero (DESNZ) shortlisted the £50m green hydrogen first phase to receive financial support from the Government's Hydrogen Business Model/Net Zero Hydrogen Fund in the first Hydrogen Allocation Round (HAR1).
Keith Clarke, founder and chief executive of Carlton Power, said: "Carlton Power acquired the former coal fired power station in 2008 to redevelop the site for new energy projects.

"With the approval of the BESS, this brings the total investment value of the site to £2bn, which will deliver significant economic benefits to the Greater Manchester region and help to deliver the regional Net Zero targets.

"The investment in the Trafford Low Carbon Energy Park over the next two to five years demonstrates Carlton's long-term vision and commitment to re-energising the Trafford site."
Councillor Tom Ross, leader of Trafford Council and Green City-Region lead for Greater Manchester, added: "The Trafford BESS, alongside the Trafford Green Hydrogen scheme, places Trafford and Greater Manchester at the forefront of the UK's energy transition.

"The two schemes will help address our climate crisis – one of Trafford Council's corporate priorities – and will support our region's plan to reach a target of net zero carbon emissions by 2038.

"I applaud Carlton Power's long-term vision in developing the Trafford Low Carbon Energy Park."
Chris McKerrow, head of Carlton Power's European BESS development, said: "Our BESS scheme will make a significant contribution to the resilience of the North West's energy system and, combined with our green hydrogen scheme and the cryobattery project, underlines Trafford Park's importance to the energy transition in the region and the journey towards Net Zero."

"Trafford Council and other local organisations, like the Greater Manchester Combined Authority, recognize the importance of the BESS and the green hydrogen scheme to the energy transition, to inward investment and to the regeneration of land, much of it vacant for over 20 years.

"We are delighted to have secured planning consent for the world's largest BESS and our focus now turns towards financing and building the scheme."