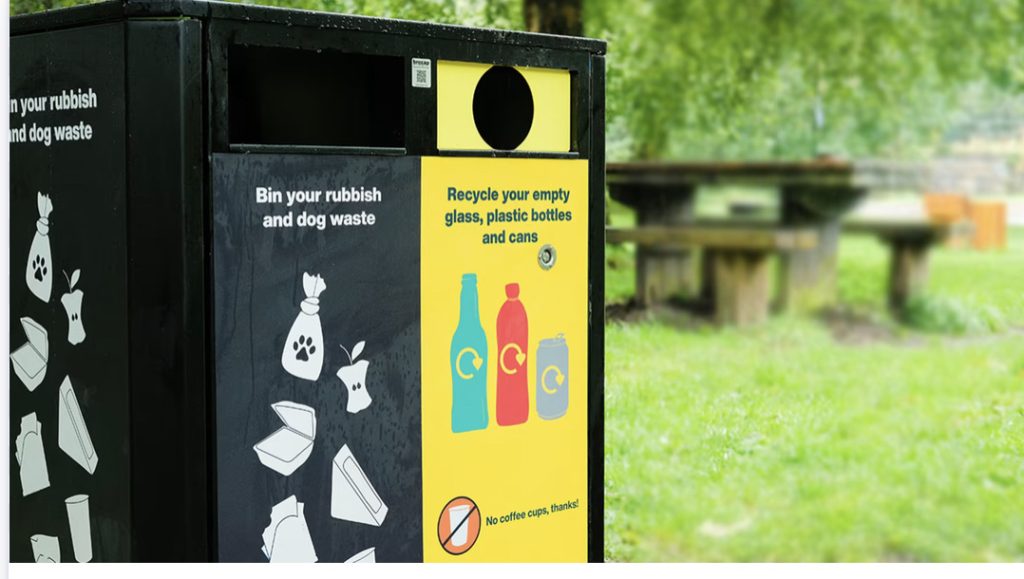 Bright, colourful and eye-catching bins will appear in Burrs Country Park, as part of a new on-the-go recycling initiative launched by Bury Council.
Bury #InTheLoop is a three-month trial which will make it as easy as possible for residents and visitors to recycle empty plastic bottles and cans in hopes to improve the borough's recycling rates.
The initiative is a partnership between Bury Council and environmental charity Hubbub, made possible with funding from The Coca-Cola Foundation.
On-the-go waste continues to be a significant problem for authorities across the country. It is estimated that 9 in 10 of us recycle at home compared to 4 in 10 who recycle on-the-go1. In 2019 an estimated eight billion drinks containers failed to get recycled in the UK2. That means they were either landfilled, incinerated or littered. At the same time, less than half of local authorities currently have on-street recycling systems3.
This new initiative in Burrs County Park is part of #InTheLoop, the UK's biggest collaborative approach to boost recycling on-the-go, which was first trialled in Leeds in 2018, followed by similar trials in Swansea, Edinburgh, Dublin, Wimbledon, Telford and Lambeth. Across the previous pilot projects, over 2.5 million plastic and glass bottles and cans were collected and recycled.
Burrs Country Park was chosen because of its popular location and links to the River Irwell, high visitor numbers and amenities including The Lamppost Café and The Brown Cow pub, plus the Caravan Club campsite and the East Lancashire Railway.
The 15 new multi-use litter bins have been installed as part of the latest investment in Bury's 14 Green Flag parks. They have 120 litre containers – one for general waste, and one for cans, glass and plastic bottles, making it easier to collect these valuable materials which can then be made into something new instead of going to waste. A competition will be held with schools, giving children the chance to make art out of the bottles and cans collected in these bins, to be put on public display.
To keep contamination to a minimum, people are being urged to put items like coffee cups, dog waste and crisp packets in the general waste section of the bin and to think "if in doubt, leave it out".
Councillor Alan Quinn, cabinet member for the environment, climate chance and operations, said: "Despite the years of austerity, we are still managing to invest in our Green Flag parks and these new bins are part of that.

"Burrs is a very popular park, home to many events, and I'm sure this move will be welcomed. It's another opportunity for people to recycle, and I'd encourage them to do as much as they can to separate their bottles and cans from their general waste and help drive up our recycling rates."