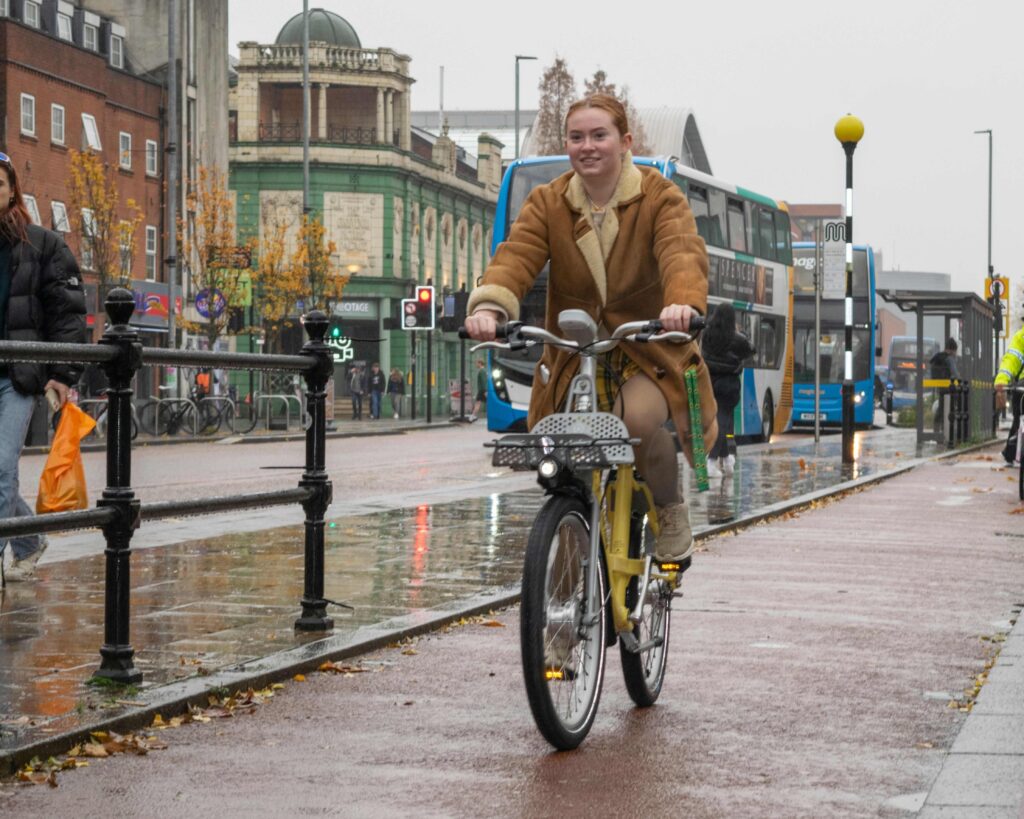 The first phase of Greater Manchester's 24/7 cycle hire scheme has launched
Hire bikes are now available from multiple stations along Oxford Road and at the University of Salford – making cycling a real option for commuters, cross city travellers and students.
To celebrate, new users will receive a free 15-minute ride, plus free unlock, if they use the scheme between 18th and 19th November.
The Bee Network Cycle Hire scheme has now launched in Greater Manchester, providing people in Manchester city centre and key locations in Salford with an easy-to-access and great value option for short journeys.
Greater Manchester Transport Commissioner, Chris Boardman, said: "Bee Network Cycle Hire is a big part of our vision for an integrated transport network. Having easy, affordable access to a bike is central to the transport offer in most modern city-regions globally, so bikes are easily accessible for local trips. I am delighted that we are now able to offer this option in Greater Manchester.
"With bikes now available at a number of key locations in Manchester city centre and Salford, I'd encourage people to download the app, get out there and give the bikes a go. This is your scheme – go out and enjoy it."
To hire a bike all people need to do is download the Beryl app, provide a few details, locate a bike, unlock it and start riding. Users can then ride a bike which must be returned to any of the available stations. Additional charges will be applied if the bike is not returned to a cycle hire station at the end of the journey.
The use of the bikes will be closely monitored and learning will be fed in as the scheme rolls out with phase one expected be fully up and running by June 2022.
Beryl's CEO, Philip Ellis, said: "We're delighted that our experience and innovation is playing an important role in helping shape Greater Manchester's impressive vision for a cleaner, more sustainable and joined up transport network.
"The launch of this next phase of the scheme is really exciting and will open up the chance for many more people to take advantage of our bikes, which provide an affordable, safe and fun alternative to car travel.
"Oxford Road has some of the region's best cycling infrastructure so why not download the app, give the bikes a try and play a part in helping to reduce congestion and carbon emissions."
By June 2022, when the scheme has expanded into Trafford, there will be a total of 1,500 bikes – including 300 e-bikes – available to the public. This will give hundreds of thousands of people an affordable, convenient and quick way to get around.
The scheme is key part of Greater Manchester's plan to provide a fully-integrated, London-style public transport system – the Bee Network – and become carbon neutral by 2038.
Councillor Tracey Rawlins, Executive Member for Environment at Manchester Council, said: "We're excited to see the Bee Network Cycle Hire scheme get underway in Manchester. The bikes will make a difference to the many residents who don't have access to a bike and will likely encourage some car users to leave the car at home for shorter trips to the shops, to see friends or as a part of their usual commute.
"Enabling the use of more sustainable methods of travel is vital if the region is to meet its ambitious programme to combat climate change".
Bee Network Cycle Hire is one of the best value for money cycle hire schemes in the UK with pedal bikes costing 50p to unlock and 5p per minute to use, while e-bikes will cost £1 to unlock and 10p per minute to use.
The public launch comes after an initial trial phase at the University of Salford, where staff and students had exclusive access to 30 bikes. Now with multiple stands and bikes available from Fallowfield down Oxford Road as far as the Palace Theatre many more people will be able to benefit from great value, reliable hire bikes.
The project complements the Bee Network Cycle Hire scheme by giving people electric alternatives to private cars and helping people make more sustainable travel choices.